EDL stages demo in Nottingham, hardly any supporters turn up (PHOTOS, VIDEO)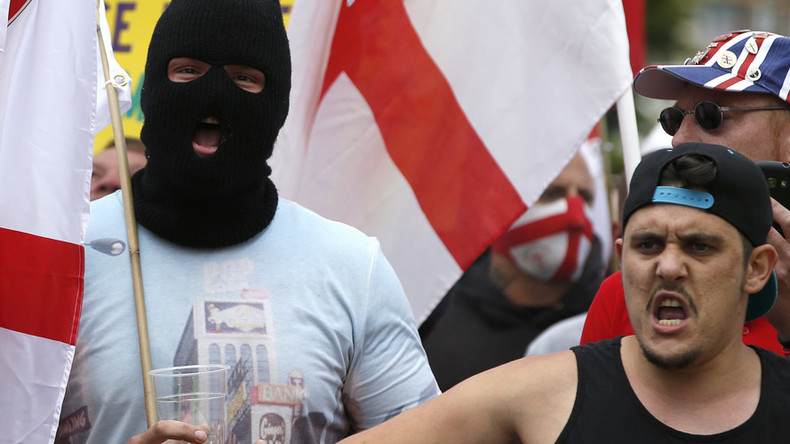 There appeared to be excitement among far-right activists in the run up to a protest organized by the English Defence League (EDL) in Nottingham this weekend.
The beach in the city's Old Market Square was closed for Saturday afternoon's demonstration, with large crowds expected - but the event proved considerably less popular than organizers hoped.
In fact, counter demonstrators seemed to outnumber the far-right group, with some estimates saying that only around 60 EDL supporters showed up.
In some instances, dozens of police officers appeared to outnumber the EDL while walking through Nottingham's near-empty streets alongside the group.
Some Twitter users criticized the cost of having a security presence at the protest, believing the police have more important things to do with their time.
Policing far-right groups outside of London has cost taxpayers up to £6 million ($7.8 million) between 2014 and 2016, according to a Freedom of Information request.
READ MORE: EDL & Britain First protests cost British taxpayers £6mn
Meanwhile, hundreds of anti-fascist counter demonstrators chanted "crush the EDL" and "there are many more of us than you" as the group marched through the city.
While today's protests were overall peaceful, police confirmed two arrests were made "on suspicion of failing to remove a face covering".
At one point, EDL marchers were captured throwing flares into a crowd of counter-demonstrators standing along their route.
The EDL claimed anti-racism protesters threw "needles" during the Nottingham event, but the statement has not been verified.