Lion's share of pedophile Jimmy Savile's estate goes to lawyers... not to his victims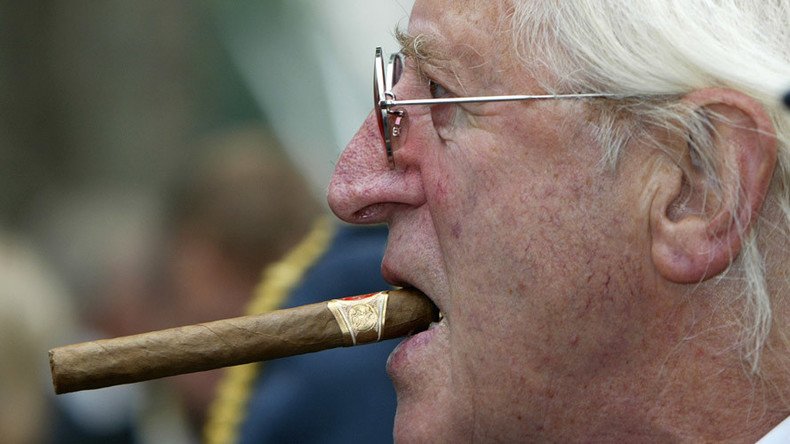 Victims of notorious serial pedophile Jimmy Savile are set to receive just a fraction of the sum that lawyers working on the case have claimed from the late BBC DJ's estate.
Lawyers have claimed a total of £2.6 million (US$3.4 million), with Osborne and Clark, the firm representing the estate's executor NatWest, claiming £1.8 million, and £689,000 going to lawyers working for the claimants, court documents reveal.
READ MORE: BBC missed multiple opportunities to stop Savile abuse – report
Meanwhile, £1 million has been set aside to pay compensation for the 78 cases of abuse made solely against the estate, with an average of £13,000 going to each victim.

"The effect [of making the payments] will be to exhaust the estate," Mark Cunningham QC, appearing for NatWest, told the High Court in central London last Thursday, when the bank made an application to be relieved of its role of executor.
Anti-child abuse campaigners have condemned the lawyers' fees. Peter Saunders, the founder of the National Association for People Abused in Childhood, told the Sunday Times: "Arguably the only people who really win in these situations are the lawyers — they take the lion's share of the money in estates such as Savile's. It does seem iniquitous that the bulk of the estate ends up in the pockets of people who least need it."
John Mann, the Labour MP who has campaigned for inquiries into historic VIP child sex abuse, said judges need to take a stand against the exorbitant lawyers' fees.
"It is an absurdly large amount for the lawyers. Yet again it is lawyers who are the big beneficiaries. Judges should be refusing these amounts of costs."
Hundreds of allegations of sexual abuse emerged after Savile's death in 2011. The former BBC presenter and charity figurehead is said to have abused some 450 victims who came forward as part of Operation Yewtree, a police investigation into widespread abuse by Savile and other high-profile figures.
The news comes just days after a public inquest into the alleged historic child abuse by the late Lord Janner, a former Labour MP, was postponed for another six months.
You can share this story on social media: