Slum conditions return to Britain as housing crisis brings squalor, exploitation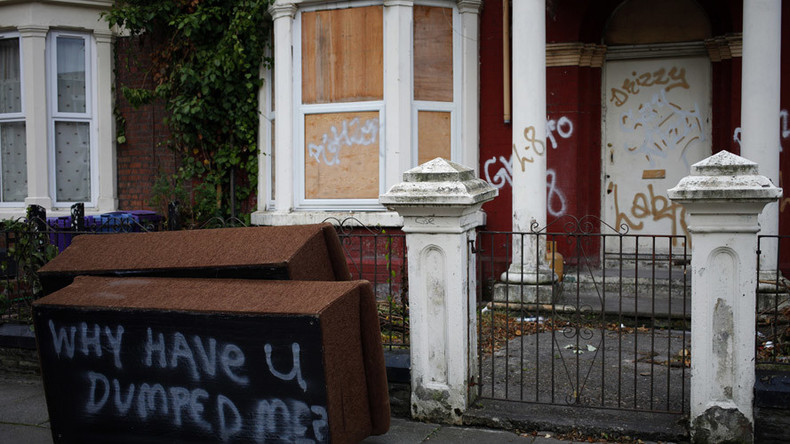 Dickensian housing conditions reminiscent of the Victorian era have returned to Britain amid a rise in private renters living in squalid lodgings and rogue landlords demanding sex in return for delayed rent.
According to local authorities and housing activists the lack of housing stock, affordable homes and regulation is forcing more and more people, especially vulnerable and low income workers into deceitful contracts and precarious rents.
A Sky News investigation spoke to dancer Sandrine Anterrion, who found herself in a homelessness cycle after being evicted for refusing to perform sexual favors on her landlord in exchange for rent. She now lives in a "flea-infested London flat with no hot water or working toilet."
"I just had to sleep in the kitchen because there was no carpet there and I ended up sleeping on chairs for like three or four years," she told the channel.
"I also had no toilet for three years. If I needed to go I had to go to Asda [supermarket] and to the library.
"I think if an animal lived in those conditions, the RSPCA [Royal Society for the Prevention of Cruelty to Animals] would have to come down and deal with it."
Launching his campaign to remain leader of the Labour Party on Thursday, Jeremy Corbyn highlighted how women and young people in particular find themselves trapped in poor housing conditions.
"Young workers are institutionally discriminated against, not entitled to the full minimum wage, not entitled to equal rates of housing benefit and so many are now saddled with huge student debts," he said.
According to Sky News research, one third of privately rented homes fall below the standards of health and safety and habitability expected by the British government.
Private renters paid upfront fees averaging £223 for new tenancies in 2014/15, according to the English Housing Survey

— hilaryosborne (@hilaryosborne) July 21, 2016
@genrentuk new starter in my office: "I'm saving for a deposit, but I have no idea when I'll get there."

He's not talking about buying.

— Charlotte Stretch (@stretchify) July 21, 2016
Around 740,000 homes are also physically unsafe, with hazards such as rodents, damp and features that place inhabitants at risk of a fall or injury. The owners of these homes make an estimate £5.6 billion (US$7.4 billion) each year in rent.
"Rents are going up and wages aren't. People still need to get to work, especially in high demand areas. Moving further away from the city is not an option because all that money you're saving on rent is just going to your train fare, so people are willing to take whatever they can get in their price range and that creates an opportunity for rogue landlords to exploit," Generation Rent lobbying group director Betsy Dillner said.
Anyone living in unsafe conditions that their landlord is failing to fix should contact their local council - but they need more resources

— Generation Rent (@genrentuk) July 21, 2016
Private renting officials in London's local councils say poor conditions and tenant complaints are something they are coming across on a "regular basis."
Compared to the 1970s, when social housing made up one third of the stock available, the stock of council housing has flat-lined at 17 percent of the market since 2013.
"We're determined to create a bigger, better private rented sector that meets the needs of tenants and encourages investment in quality homes for rent," said a spokesperson for the Department for Communities and Local Government.
"This includes cracking down on rogue landlords with more over 40,000 properties inspected and more than 3,000 landlords facing further enforcement action or prosecution."
You can share this story on social media: