Search for Didcot missing dead to continue after power station demolition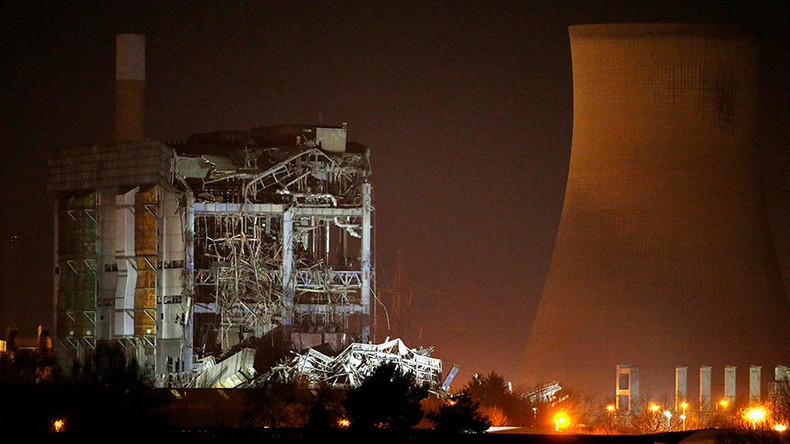 The remains of the Didcot power station have been demolished, allowing the resumption of a search for the men who died when the building collapsed on them five months ago.
Demolition workers Ken Cresswell, 57, John Shaw, 61, and Chris Huxtable, 34, died when part of the building collapsed on February 23. The remains of their colleague, 53-year-old Michael Collings, were recovered from the site.
Search efforts were halted in May because of concerns that the partially collapsed structure posed a danger to recovery teams, but following Sunday's remote demolition, the site is now considered safe enough for the search to resume.
The building had been due for demolition when the structure partially collapsed, leaving rescuers attempting to retrieve the bodies in hazardous conditions.
Roland Alford, the explosives contractor at the site, defended the delay in the search, telling the Press Association "nothing like this has ever been attempted before and this is not a simple demolition."
"It was almost unthinkable to send people to work underneath there and place charges, given the fact the building could come down at any moment – you legally can't justify that," Alford said.
Robots were involved in planting explosives at the site, which was surrounded by a 50 meter exclusion zone. Notices were sent to residents notifying them that there would be a scheduled loud explosion, but any resulting airborne dust would not be harmful.
Search and recovery efforts for the men are expected to resume today.
The demolition was opposed by the three men's family members. Cresswell's son-in-law, Steve Hall, told BBC Radio Oxford that the family were "sick to their stomachs" when they heard about the plans to use explosives while the deceased were still inside the structure.
READ MORE: '24 hour nightmare': Bereaved family battling Didcot demolition while bodies remain inside
"How can anyone with a heart or a soul even consider an idea like that. We'd like him out in one piece, not hundreds of pieces," Hall said.
The former mayor of Didcot and town councillor Des Healy said he hoped the demolition would "give the families closure at long last." He said that he would not watch the explosion knowing that the men are still inside.
"It would not feel right going to watch that. I think you will find a lot of people feel exactly the same." he said.
The Didcot Power Station was closed down in 2013 and slated to be completely demolished. The nearby gas-burning Didcot B station is still in operation.