Military families sent loved ones body armor to make up for shortages in Iraq frontline kit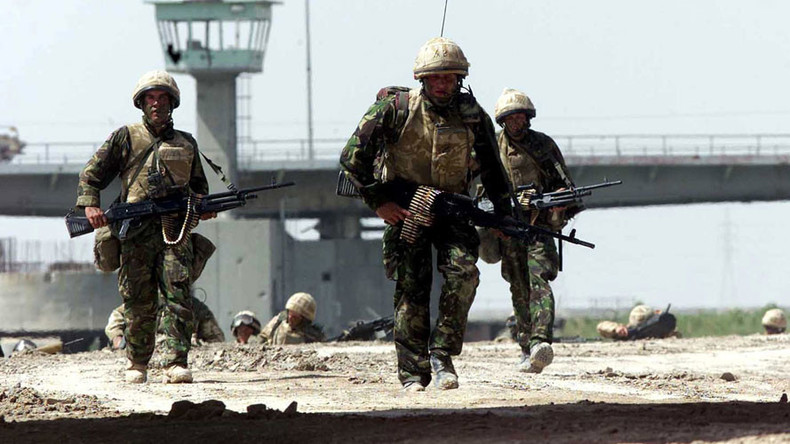 British soldiers serving in Iraq suffered such serious kit shortages during the 2003 invasion and occupation their own families would mail them basic equipment including body armor, it has been claimed.
On Thursday, the second of a two-day debate in the House of Commons held in the wake of Sir John Chilcot's scathing report on July 6, a number of MPs raised the issue of equipment shortages.
Many of those who spoke were "Honourable and Gallant" members of parliament – an archaic term for elected politicians who have served in the armed forces.
Among them was Jim Shannon from Northern Ireland's conservative Democratic Unionist Party, who once served in the locally-recruited Ulster Defence Regiment.
"We can't keep sending forces into places they are not prepared to go into, both in terms of equipment and understanding of the reason," he said.
Although he was not an MP at the time of the Iraq war, he said he has since been approached by constituents who told him they were "sending socks and boots and food and bodywarmers" to military relatives.
On one occasion, soldiers' families reported sending "body armour to their people in Iraq," he said.
Tory MP Johnny Mercer, who served in Afghanistan in a commando artillery regiment, said: "We as a military betrayed those individuals who lost their lives in this conflict as a direct result of equipment shortages."
He delivered a stark warning about the failure of senior commanders "to speak truth to power" at the time of the war.
He also raised allegations that senior politicians kept the military in the dark ahead of the war and, in doing so, denied them the chance to organize adequate kit.
"It is inconceivable to me to allow political administration in this country to hamper preparations for war because it did not politically want to be seen to be doing so," he raged.
The debate also saw the UK press criticized for its role in the build up to the disastrous war, which cost the lives of 150,000 people, at the most conservative estimate, 179 of which were UK service personnel.
Ulster Unionist Party MP Danny Kinahan said: "The press must examine themselves, they must look at this and see how much of what went wrong in Iraq was due also to their pressure."
"And at the same time we must look at how we use the press, and how senior members in politics push the press to do what they want," he added.