#PostRefRacism: Racist hate crime jumped 42% during Brexit referendum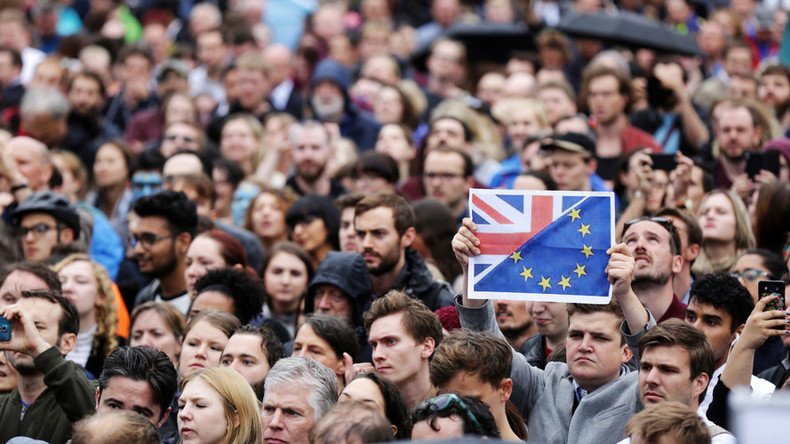 White powder sent to mosques, an Eastern European shop targeted by arsonists and an attack on a curry house in London are just some of the latest examples of racist hate crimes committed after the Brexit vote.
New figures show more than 3,000 hate crimes and incidents were reported to police across the UK in the second half of June – a jump of 42 percent compared to last year.
The daily rate peaked at 289 alleged offenses on June 25, the day after the EU referendum result was announced, according to the Daily Mail.
Thousands of people have taken to Twitter using the hashtag #PostRefRacism to document xenophobia they have seen or experienced on Britain's streets since the Brexit vote.
Packages containing white powder were sent to three mosques and Islamic centres across the capital in Tottenham, Leyton and Finsbury Park on Thursday. Another package, which was sent to peer Lord Ahmed, a Muslim, forced the closure of part of the parliamentary estate.
A worshipper in Tottenham said the package was annotated with a crossed-out drawing of a mosque, an offensive term and the word "filth," according to the Independent.
Areeb Ul said: "A committee member from the mosque called the police after his dad felt itchy from the white powder.
"Someone somewhere is trying to send the Muslim community in the UK a message.
"And whether we like it or not, Islamophobia is real. We cannot afford to be afraid of speaking out when someone clearly wants us to do the opposite."
The Metropolitan Police is also investigating an attack on a curry house in east London's Brick Lane, owned by Azmal Hussein, who had campaigned for Britain to remain in the EU.
"I'm absolutely devastated about the attack. It is definitely racist," he told the Daily Mail.
"There was glass all over the floor and police and forensics were here gathering evidence.
"I was an active remain campaigner and everyone in the community knows me. Our community from India came here 200 years ago, we have a right to be here."
In Norwich, a brick was thrown through the window of a store selling Eastern European food, the Village Shop, early on Friday morning before a fire was started in the shop front.
Owner Maria Abraham told the Daily Mail she thought her shop was targeted as a result of the Brexit vote.
"What can we expect. Everyone thinks it is to do with the vote. Maybe it happened because it is a European shop that only sells Eastern European foods."
In Plymouth, a Polish family was targeted when arsonists set fire to a garden shed next to their home and left a letter threatening them further if they did not return to Poland.
Polish dignitaries, local councilors and the community are rallying behind the family. A police investigation is ongoing.
On Wednesday, racist vandals scrawled "Muslims are scum" on a refugee family's front door in Cardiff, Wales, and left knives stabbed in their lawn.
You can share this story on social media: