Enraged UK veterans blast 'war of aggression' ahead of Chilcot's Iraq war report (RT EXCLUSIVE)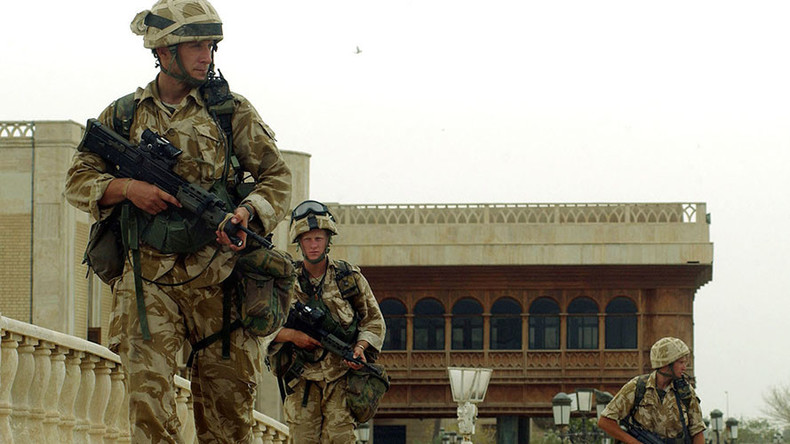 A UK veterans' group has blasted the 2003 Iraq conflict as a "war of aggression" waged on the Iraqi people ahead of the publication of the Chilcot report on Wednesday.
Veterans for Peace UK (VFPUK), which is reported to contain up to 400 armed forces veterans from Britain's recent conflicts, has criticized the country's establishment over the war. It is the first public intervention by an ex-services organization on the issue.
"Whatever Chilcot says, this country and its armed forces executed a war of aggression on the people of Iraq," the group claimed in a statement seen in advance by RT and due for release Monday evening.
The group also called for legal action against those who led the war.
"In a joint enterprise with the USA, we prosecuted an occupation of Iraq that defied the Geneva Conventions. Under the Nuremberg principles, those ultimately responsible should face trial," the press release said.
While the ex-services group acknowledged and criticized the role of former Prime Minister Tony Blair in the war, they said that the issue was much broader.
"Whilst Tony Blair is the obvious villain and in our opinion should face a criminal investigation, it is the UK as a whole that needs to change."
VFP also linked the Iraq war with other conflicts in which the UK had engaged over the last decade and a half. "Since Iraq, our forces have attacked Helmand [in Afghanistan], Libya, Iraq and Syria. We are playing a key role in the Saudi Arabian attack on the Yemen," they said.
The toll of the wars, the group argued, included huge casualties, damage to infrastructure and the environment, a "significant rise in terrorism globally" and a "huge" refugee crisis.
VFP called for a deeper analysis of Britain's role in the world and said that war was "not the solution to the problems the world faces in the 21st century."