Cameron steps down as PM, to leave office by October (VIDEO)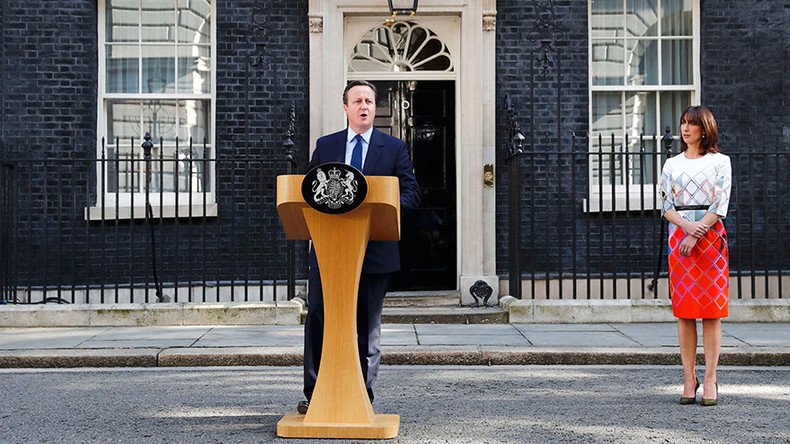 Britain's David Cameron has announced plans to resign as prime minister following Britain's decision to leave the European Union.
Speaking after confirmation that the United Kingdom had voted against his pleas to remain in Europe, the Tory leader told reporters outside 10 Downing Street: "I do not think it would be right for me to be the captain that steers our country to its next destination."
"This is not a decision I've taken lightly but I do believe it is in the national interest to have a period of stability and then the new leadership required," Cameron added.
"I think it's right that this new Prime Minister takes the decision about when to trigger article 50 and start the process of leaving the EU."
In a statement to the press, the PM acknowledged that the British people had "made a very clear decision to take a different path" and thus required fresh leadership.
"We should be proud of the fact that in these islands, we trust the people with these big decisions," Cameron said of the Brexit referendum.
"The British people have voted to leave the European Union and their will must be respected."
The decision to put EU membership to a public vote had created a schism within the Conservative Party, with a number of backbenchers campaigning against Cameron's argument to remain within the political and economic trading bloc.
"Delivering stability will be important and I will continue as prime minister with my cabinet for the next three months," Cameron said.
"The cabinet will meet on Monday, the governor of the Bank of England is making a statement about the steps that the bank and the treasury are taking to reassure financial markets."
Despite calls from the opposition to trigger Article 50 and start formal proceedings for leaving the EU, Cameron suggested the responsibility should lie with the next leader.
Dignified statement by David Cameron. Sensible not to trigger article 50 in arbitrary manner. Treaties & Acquis still law until deal done.

— Owen Paterson MP (@Owen_PatersonMP) June 24, 2016
Thank you everyone who voted to keep Britain stronger, safer & better off in Europe - and thousands of @StrongerIn campaigners around the UK

— David Cameron (@David_Cameron) June 23, 2016
The prime minister is due to appear before the European Council next week to explain the outcome of the referendum, which he urged people to "respect."
"The British people have made a choice. That only needs to be respected but those on the losing side of the argument, myself included, should help to make it work."
#Cameron on #Brexit: to Europeans living here - there will be no initial change in your circumstances, now - negotiation w/ EU

— Anastasia Churkina (@NastiaChurkina) June 24, 2016
In an effort to allay fears over what will happen next in Britain's 'divorce' from the EU, Cameron insisted the referendum result will have no immediate impact on normal British and European citizens, specifically their freedom to travel.
"I would reassure markets and investors that Britain's economy is fundamentally strong," he said.
"I would reassure that Brits living in European countries and European citizens living here that there will [see] no immediate changes in your circumstances. There will be no initial change to the way our people can travel, in the way our goods can move, or the way our services can be sold."
We've left behind a failed political union. We can now rejoin the world as an independent, self-governing nation.https://t.co/oqMbzLWhqO

— Nigel Farage (@Nigel_Farage) June 24, 2016
Amid the fallout of Brexit, Spain will reportedly seek co-sovereignty of Gibraltar. Spanish Foreign Minister Jose Manuel Garcia Margallo said the vote would change the "outlook" for overseas territory, with the "Spanish flag on the Rock much closer than before."
Former chair of the Conservative Party, Sayeed Warsi said she was "stunned" to hear of Cameron's resignation.
Stunned & deeply saddened that David has decided to resign.
Simply lost for words. Need leadership more now than ever before @David_Cameron

— Sayeeda Warsi (@SayeedaWarsi) June 24, 2016
A number of Tory colleagues have taken to social media to praise Cameron's "dignified" departure, despite the view that his final act as leader may involve heralding a UK Brexit "disaster" of his "own making".
David Cameron has been dignified and decent to the end. Thank you for giving us the referendum, and thank you for your years of service.

— Daniel Hannan (@DanHannanMEP) June 24, 2016
I don't see how David Cameron will be PM by end of the day in UK. This disaster for Britain is wholly of his making.

— Ivo Daalder (@IvoHDaalder) June 24, 2016
Much like Britain's voting patterns reaction to the Brexit has been split. But amid celebrations from Leave campaigners in the UK, political figures abroad have expressed their concerns.
#brexit (with small b of little England) makes Europe a more dangerous place: extreme-right wing rejoices. Time to organize Resistance.

— (((Ana Gomes, MEP))) (@AnaGomesMEP) June 24, 2016
Necesitamos estabilidad. Por encima de todo, seguiremos defendiendo los intereses de los españoles y una mayor integración europea #Brexit

— Mariano Rajoy Brey (@marianorajoy) June 24, 2016
Italian Democratic Party politician Debora Serracchiani called Brexit the "last warning siren" for EU officials.
#Brexit è prezzo pagato a miopia e lunga inerzia europea. Non sono più segnali, è ultima sirena d'allarme per #UE. Poi si torna a Yalta

— Debora Serracchiani (@serracchiani) June 24, 2016
You can share this story on social media: