Our daily Brexit: Gambling MEP challenges Farage to €1mn Brexit bet, plus some cute cat pix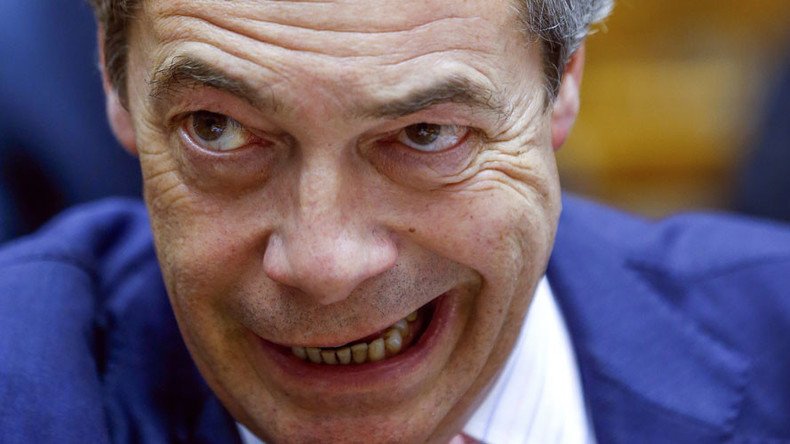 Lithuanian MEP and former poker player Antanas Guoga has challenged UKIP leader Nigel Farage to a €1 million bet on the outcome of the EU referendum. RT looks at this and other mad gambles in Brexit news.
Guoga, a multi-millionaire thanks to his poker-playing career and online gambling empire, bet Farage the equivalent of US$1.13 million or £771,000 Britain will vote to remain in the EU on Thursday.
The MEP appeared to be poking fun at Farage after his recent publicity stunt of betting £1,000 on Brexit.
If Farage accepts the challenge and Britain votes to Remain, he will have to pay out €1 million to a charity of Guoga's choice, and vice versa if Brexit wins.
Politico reports Guoga penned a letter to Farrage offering the challenge.
"I am so confident that the British people will do the right thing and vote to remain in the EU that I offer a €1 million charity bet to you on Leave!"
Guoga describes himself as a "huge advocate for EU reform."
"Don't leave Europe to Germany and France. That would be a pity for markets, businesses, researchers, innovators, entrepreneurs and creators worldwide," he wrote.
Online betting website Betfair's current odds for a Remain vote are 2/7, while the odds of a Brexit are 11/4.
The latest opinion poll, by YouGov, found the Remain campaign is currently at 44 percent, while Leave support has fallen to 43 percent.
Farage defends 'racist' poster
While considering this costly wager, the UKIP leader has also sought to defend a billboard he unveiled last week, which shows a vast line of refugees with the words "BREAKING POINT – The EU has failed us all."
"That poster reflects the truth of what's going on. We have a new poster coming out tomorrow morning and we'll unveil a new poster for every day," he told Sky News.
Farage has been forced on the defensive after recent polls showed support for Brexit is waning.
Senior figures in both the Remain and Leave camps denounced the poster, with Scottish First Minister Nicola Sturgeon calling it "vile and racist," and Leave chief Michael Gove admitting he "shuddered" when he saw it.
The billboard has also come under criticism for its striking similarity to a 1941 Nazi newsreel showing a long line of Jewish refugees on a forced march.
Europe wants Britain to stay... just about
It turns out Britain's closest neighbors aren't too bothered about the UK leaving the EU. On the whole, they want Britain to stay in the EU, but not by a very big margin. Support for the UK voting to remain currently stands at 54 percent across all 28 EU member states.
On top of that, only 25 percent Europeans said they believed a Brexit would leave their country worse off, according to a poll by the German Bertelsmann Foundation.
As opinion polls on Thursday's EU referendum become harder to call, it appears Europeans have come to accept Britain may well leave the bloc.
"Europe will also work without Britain if necessary," German Finance Minister Wolfgang Schaeuble recently said.
Bertelsmann project manager Isabell Hoffmann said, "What we have seen in our polling is that while the mood in the UK is incredibly agitated, the atmosphere on the continent has been relatively calm. The baseline response we are seeing is that people in the rest of Europe haven't really been shaken up by the Brexit debate."
#CatsAgainstBrexit
Animals may not be able to vote in the EU referendum, but that hasn't stopped them from sharing their opinions on the matter.
Britain's cats have come out in overwhelmingly support for remaining in the bloc. They even have a Twitter hashtag which began trending on Monday.
#CatsAgainstBrexit was kicked off by Lilian Edwards with this tweet:
As it quickly went viral, it inspired hundreds of other Europhile copycats.
You can share this story on social media: