Warped expectations: Over half of boys think online pornography is realistic, study finds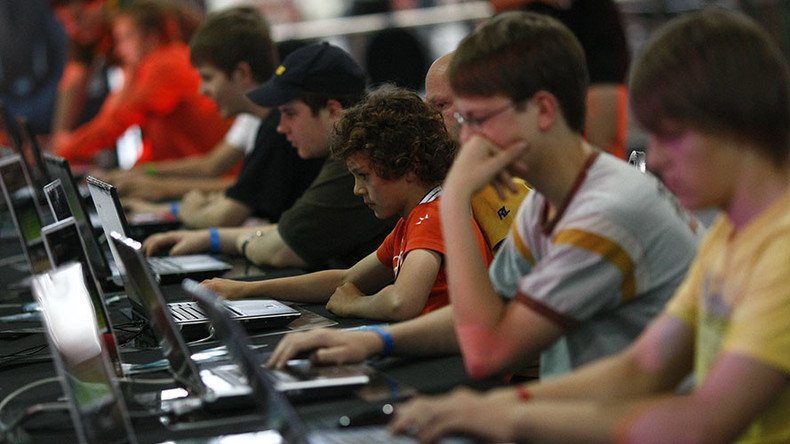 Boys who view online pornography believe it's a realistic depiction of sex, according to a study of British high school students by Middlesex University.
The research, which was commissioned by the National Society for the Prevention of Cruelty to Children (NSPCC), found that out of 1,000 pupils aged 11-16, 53 percent said they had viewed online pornography. While some searched for it, many were likely to have come across it accidentally, often through pop-up ads.
Indeed, 53 percent of boys who had viewed pornography said they thought it depicted a realistic impression of sex, while 39 percent of girls thought the images were realistic.
Some 41 percent of boys and girls who viewed porn for the first time felt 'curious,' while 27 percent said they were 'shocked', 27 percent 'confused,' and 24 percent said they were 'disgusted.'
X-rated sites were accessed for the first time on a mobile device or tablet by 33 percent of those surveyed.
One girl, aged between 11 and 12, told researchers she "didn't like it because it came on by accident," the Guardian reports.
"I don't want my parents to find out and the man looked like he was hurting her, he was holding her down and she was screaming and swearing," the girl added. "I know about sex but it didn't look nice. It makes me feel sick if I think about my parents doing it like that."
Other children said they were shocked by how internet porn has become normalized and that it was "disgusting and degrading."
The study also revealed that 94 percent of those questioned who viewed online porn were exposed to it by the age of 14.
READ MORE: Porn sites without age restrictions 'will be shut down' – Cameron
Over a third of boys in particular, aged 13-14, said they would copy some of the behavior, while the majority of respondents agreed porn did not help them understand consent (87 percent of boys and 77 percent of girls).
A boy from the study said: "One of my friends has started treating women like he sees on the videos. Not major, just a slap here or there."
Dr Elena Martellozzo, who co-authored the study said it is "worrying" how some children accidentally stumbled across porn without actively searching for it and that the unrealistic perceptions boys had of sexual relationships could lead to "inappropriate expectations."
"If boys believe that online pornography provides a realistic view of sexual relationships, then this may lead to inappropriate expectations of girls and women," she said.
"Girls too may feel pressured to live up to these unrealistic, and perhaps non-consensual, interpretations of sex. This is clearly not positive for developing future healthy relationships."
Some children criticized current sex education classes in their school. They said lessons on the issues raised in the study could help young people understand the importance of respectful relationships.
READ MORE: UK classrooms may teach students about Internet porn
Chief executive of the NSPCC, Peter Wanless, told the Guardian that exposing minors to porn at such a young age can be "extremely damaging" and called on the British government to do more.
"Industry and government need to take more responsibility to ensure that young people are protected," he said.
"Age-appropriate sex and relationship education in schools, dealing with issues such as online pornography and children sending indecent images are crucial."
You can share this story on social media: