UK diplomats advised lifting visa regime for 1.5mn Turks to retain EU migrant deal – leaked cables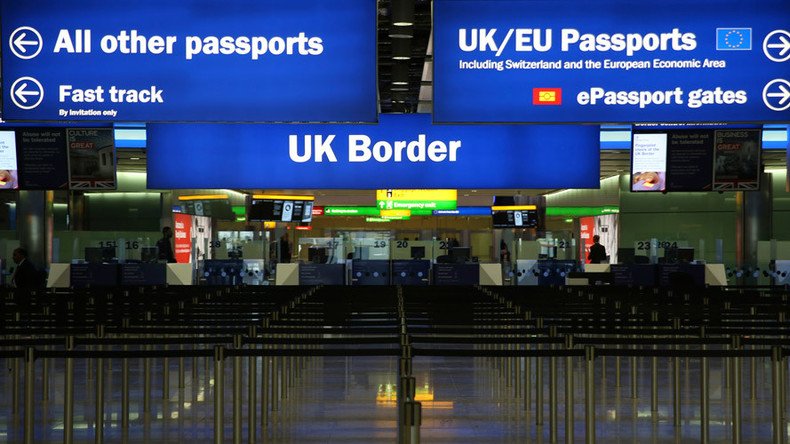 High-level UK diplomats have discussed lifting the visa regime for nearly 1.5 million Turks, as a "symbolic gesture" necessary to incentivize Ankara on the controversial EU-Turkey migrant deal, according to leaked British embassies' cables.
The diplomats advised visa liberalization to prevent Turkish President Recep Tayyip Erdogan from derailing the landmark EU-Turkey migrant deal, according to five leaked diplomatic cables seen by The Sunday Times exclusively.
In a telegram to the Foreign and Commonwealth Office (FCO), Janet Douglas, the deputy head of mission in Ankara wrote: "Should [EU] visa liberalization be granted, we will need to develop our own lines on the UK's stance to visa-free travel for Turks."
"One option would be to assess again the possibility of visa travel for Turkish special passport holders, which would be a risk, but a significant and symbolic gesture to Turkey," Douglas said.
Special passports were issued for up to 1.5 million Turkish government officials, civil servants, teachers and their families who were able to travel to the UK without a visa until 2009, according to the newspaper.
If talks on visa liberalization fail, "an impetuous and riled Erdogan – prone to come out fighting when he feels betrayed – could carry through his threat to 'open the floodgates' to Europe for migrants," her telegram warned.
Under the controversial "one in, one out" scheme agreed by Brussels and Ankara, one asylum seeker already on the Greek islands will be re-settled to Turkey, and, in exchange, a Syrian refugee in Turkey will be allowed into the EU. In return, Ankara demanded lifting visa restrictions and speeding up negotiations on Turkey's long-lasting bid to join the bloc.
In other telegrams, Douglas asserted that the UK was viewed by Turkey "as an exception" to the "skeptical approach" of other EU governments, apparently because of Britain's "continued practical support" to the Turkish border force. "We might usefully ensure member states realize the implications in migration terms of snubbing Turkey on visa liberalization," the diplomat added.
Other diplomatic cables reveal that Europol, the EU's major law enforcement body, had warned Home Secretary Theresa May that the influx of refugees could raise the terror threat.
"Europol … confirmed there was some emerging analysis linking migration with terrorism – for example, the false Syrian passports provided to the Paris bombers came from the same source as used by other smuggling networks," the British mission in Brussels wrote in a memo on a meeting of EU justice and home affairs ministers.
Earlier, the US intelligence community said Islamic State (IS, formerly ISIS/ISIL) possessed numerous blanks and at least one printing machine capable of producing authentic Syrian passports. Fraudulent Syrian passports were used by two suicide bombers involved in the Paris bombings last November. They had allegedly entered Europe with other refugees.
Downing Street said the cables were genuine, but then issued a joint statement by May and Philip Hammond, the foreign secretary, calling plans to open British borders "completely untrue," as cited by the Sunday Times.
"The purpose of diplomatic telegrams is for our embassies around the world to feedback information on the position and views of foreign governments," the statement said, before adding: "They are reports from our diplomatic posts, not statements of British government policy.
"As a full reading of these telegrams shows, our overriding focus has been on working with the Turkish authorities to tackle illegal immigration via Turkey, because that is in our national interest."
Over three million refugees still remain in Turkey, facing harsh living conditions as well as significant delays in processing their asylum applications. Rights groups say Turkey cannot be regarded a safe country given its poor human rights record, crackdown on press freedom and an ongoing military operation against Kurdish rebels.
You can share this story on social media: