'Topshop, shame on you!' London protesters cause chaos outside leading retail store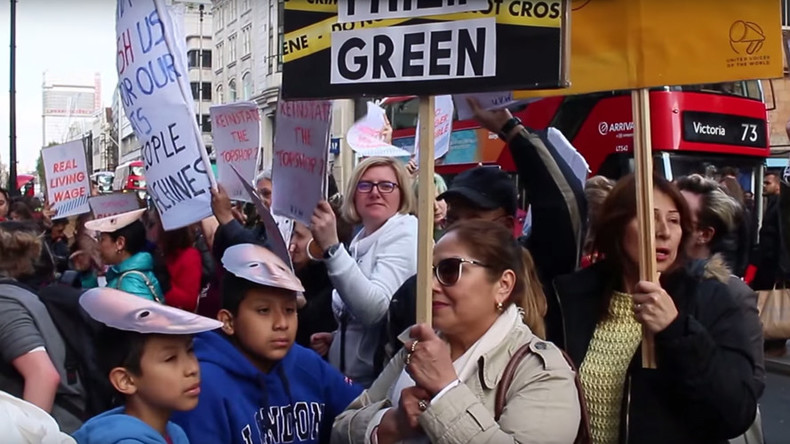 Demonstrators have rocked one of London's busiest shopping streets, with campaigners demonstrating against retailer Topshop and its owner Sir Philip Green. Around 200 activists took part in Saturday's rally, including Shadow Chancellor John McDonnell.
Those taking part in the protests blocked off traffic outside the shop's flagship store on Oxford Circus, chanting "Topshop, shame on you." Green, whose Arcadia group owns Topshop, was targeted because some demonstrators believe the retailer is paying slave wages to cleaners working at the store.
"Our work is not valued at Topshop. Often our contracts do not reflect the actual hours we work. We also often feel discriminated against and there is a lot of favoritism towards friends or family of the managers," said Susana, a cleaner and one of the protesters, wrote on Facebook.
Teresa Gray from the United Voices of the World trade union said protesters from a number of organizations had taken to the streets to "make their voices heard."
"Two Topshop cleaners joined our union. For that, one was sacked, the other suspended," she said, according to the Press Association.
Scuffles broke out between police and members of the Class War organization, who had previously let off red smoke bombs.
McDonnell has been vocal in his support for those looking to obtain a living wage, and he has also been critical of Green for the part the billionaire played in the sale of one of the UK's biggest retailers.
Green faced a firestorm of criticism after he pocketed £400 million ($574 million) in dividends from UK department store BHS, while leaving it with a pensions deficit totaling hundreds of millions of pounds when he sold it on in 2015.
The high street chain was purchased by a consortium headed by Dominic Chappell called Retail Acquisitions for the nominal sum of £1 ($1.4). After the Green family withdrew the £400 million in dividends, the chain's pension's deficit hit £571 million ($819 million). The firm subsequently spiraled into administration, putting 11,000 jobs in jeopardy.
During a speech in April, McDonnell said that people who were knighted and then engage in unethical or illegal conduct should be stripped of the title by MPs.
"They don't live in the same places as the rest of us. They don't pay taxes like the rest of us. Cocooned by their wealth and power, they don't think the same rules apply to them as the rest of us," he said.
"That means we get economic decisions made in the interests of the very few, and not the many. It means a whole society where the potential of its people is squandered by the greed and arrogance of a very few at the top."