Monsanto weedkiller relabeled by activists to expose alleged cancer-causing properties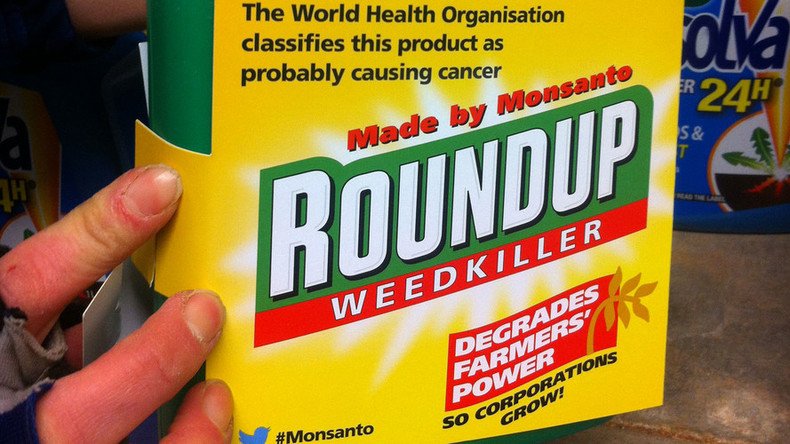 Activists relabeled bottles of Monsanto weedkiller in hardware stores across Britain on Wednesday in a bid to raise concerns over the product's health implications. The herbicide was branded potentially carcinogenic in 2015 by scientists.
Campaigners descended on DIY outlets and garden centers throughout the UK on Wednesday, relabeling containers of Monsanto's flagship herbicide "Roundup."
The labels were created by pressure group Global Justice Now, which distributed 400 'brandalism' packs designed to raise awareness about the product's toxicity earlier this month.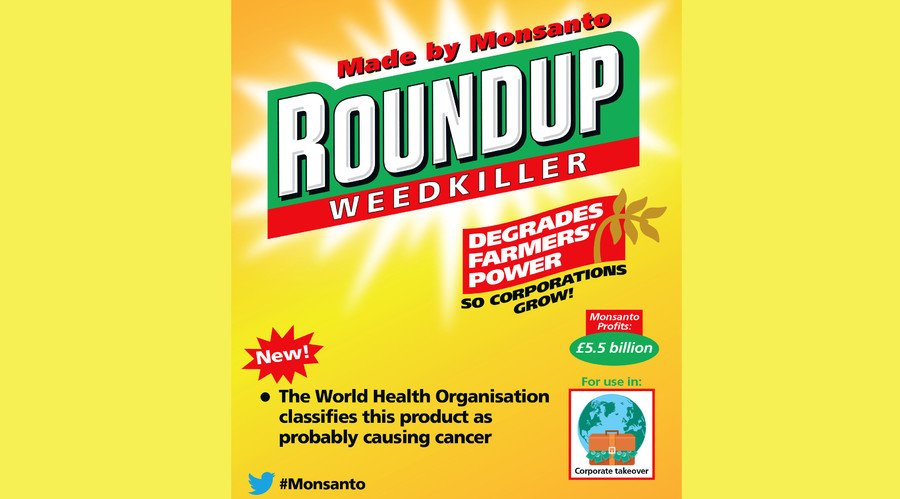 Using Monsanto's iconic branding, campaign designers printed hard-hitting slogans on the labels such as: "Degrades Farmers' Power" and "The World Health Organization (WHO) classifies this product as probably causing cancer."
They also highlighted Monsanto profits of "£5.5 billion," warning the revenue is being used to expand the agri-giant's "corporate takeover."
'Probably carcinogenic'
Roundup is a broad-spectrum herbicide, commonly known as a weedkiller. The solution is absorbed through plant leaves and roots. It contains a chemical compound called glyphosate, which was described as "probably carcinogenic" by a groundbreaking WHO report in 2015.
A German Federal Institute for Risk Assessment toxicology review, conducted in 2013, also found that available data on glyphosate was "contradictory" and inconclusive on the compound's links to cancer. In addition to concerns over Roundup's destructive health impacts, increasing resistance to the herbicide in weeds has sparked controversy.
Aisha Dodwell, a food campaigner for GJN, says agri-giants have too much influence over EU policy-making.
"The fact that the EU is even considering relicensing a chemical that is probably causing cancer is testament to the enormous influence that big agribusiness companies like Monsanto have over decision making procedures and our politicians," she said.
"Monsanto's toxic products are being targeted in garden centers and DIY shops across the country because we want policy makers to take decisions based on what's good for public health and farmers rights, not what's good for Monsanto's profit margins."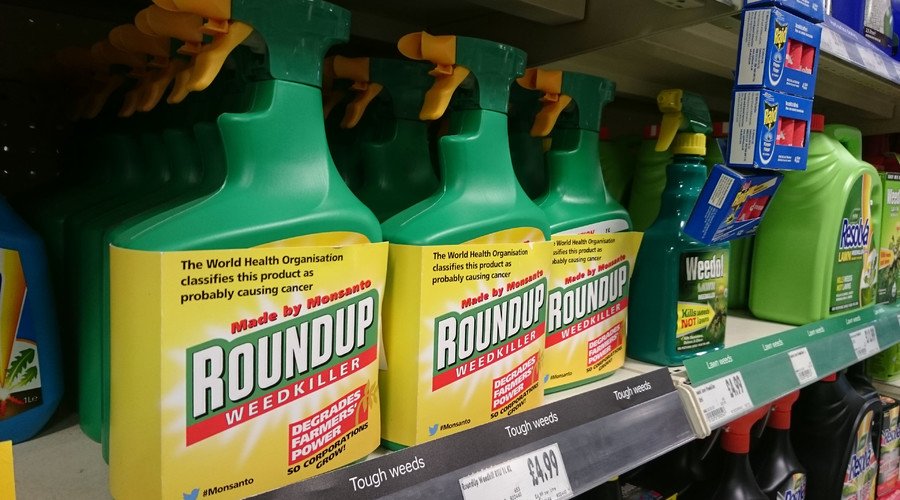 Just last March, a group of experts was scheduled to decide on whether glyphosate should be relicensed by the EU. But the date for the decision was pushed forward to May 19, following heated opposition from anti-Monsanto campaigners across the continent.
Support for renewing the relevant license collapsed in March, forcing the European Commission (EC) to postpone a vote. Soon after, the European Parliament (EP) passed a nonbinding resolution that called for strict limitations on the sale and use of glyphosate.
Nevertheless, Monsanto is currently demanding the WHO retract its damning 2015 report, which raises concerns over glyphosate's possible carcinogenic properties. Experts have warned that people power is the only way to stop the study's findings being silenced.
'EU regulators captured by agro-chemical industry'
Civil society pressure against glyphosate has mounted in recent months. In particular, a petition calling for the license governing the use and sale of glyphosate to be scrapped has made waves. To date, it has attracted the signatures of well over 1.4 million citizens.
The petition says the EU's regulatory system is notoriously secretive and "captured by the agro-chemical industry." It calls for products containing glyphosate to be outlawed, noting the Netherlands, Sri Lanka, and El Salvador are considering such a ban.
You can share this story on social media: