Israeli Labor considers break with UK party over anti-Semitism, despite own accusations of racism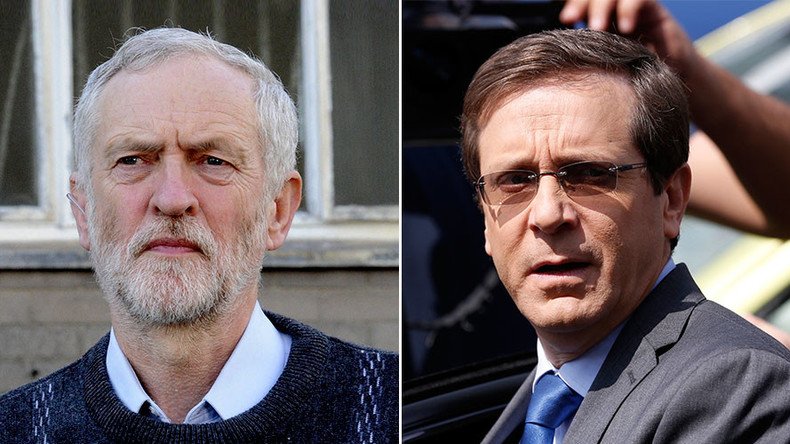 Israel's center-left Labor party said it was considering severing ties with its British counterparts led by Jeremy Corbyn over ongoing allegations of anti-Semitism, just weeks after the Zionist party's leader, Isaac Herzog, himself faced accusations of racism for calling on followers to shed their "Arab-loving" image.
Herzog made the statement in April to the Zionist Union, which combines his Labor movement with former Foreign Minister Tzipi Livni's Hatnuah party.
The British Labour party is locked in crisis over alleged anti-semitism. Bradford West MP Naz Shah and former London Mayor Ken Livingstone are among more than 50 British Labour party members who have been suspended in the past few months, accused of racist and anti-Semitic comments. This has caused anger in Israel's Labor party, also known as HaAvoda.
READ MORE: 'Hitler supported Zionism' claim gets Ken Livingstone suspended from Labour
The suspension this week of a further three local British councilors over comments posted on social media prompted the Israeli party to admit that breaking away from British Labour was "one of the options that is being considered", according to AFP.
READ MORE: Labour councilors suspended over 'anti-Israel' social media posts
Just days ago Herzog wrote to Jeremy Corbyn, saying he was "appalled and outraged" at the latest incidents, and invited him to visit the country's Holocaust museum to "better understand the scourge of anti-Semitism".
READ MORE: Corbyn 'naive' about Middle East, defense & ISIS – Israeli Labour leader
But last year, in a speech to the Zionist Union, Herzog also faced accusations of racism when he said he was opposed to having more Arab members in the Knesset, calling for a Jewish-only parliament. Critics say this would create further disparity between the rights of the country's Arab and Jewish citizens.
"I don't want 61 Palestinian MKs in Israel's Knesset," he said. "I don't want a Palestinian prime minister in Israel. I don't want them to change my flag and my national anthem."
HaAvoda has been widely seen as a leftist party in Israel, but has been criticized for openly supporting discriminatory policies towards Palestinians.
Jeremy Corbyn said his party stood "absolutely against anti-Semitism in any form," during a May Day rally.
You can share this story on social media: