MPs brand Cameron 'racist' after PM claims London mayor candidate 'shared stage with pro-ISIS imam'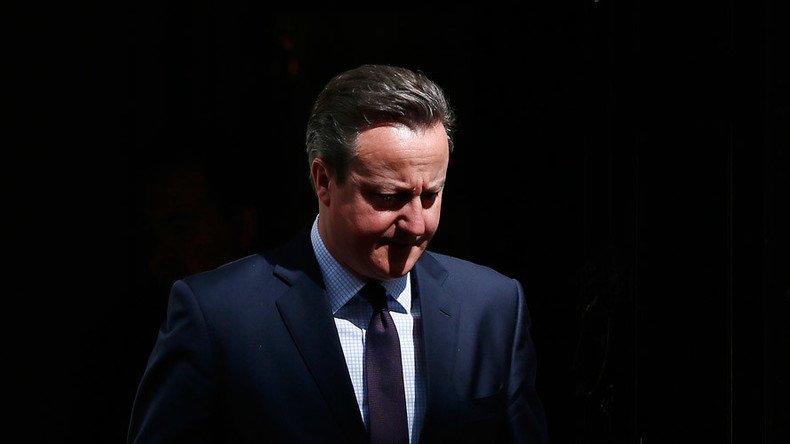 Cries of "racist" drowned out British PM David Cameron as he delivered a speech accusing Labour mayoral candidate Sadiq Khan of repeatedly appearing with an imam he says "supports Islamic State." The imam turns out to be an active Tory supporter, however.
Sadiq Khan, an MP for Tooting since 2005, comes from a family of Pakistani immigrants. In September of 2015, he won a Labour contest to become the party's candidate in London's mayoral elections scheduled for May 5. His main rival to succeed London mayor Boris Johnson is Zac Goldsmith, a Conservative MP for Richmond Park who is an Eton graduate and former editor of Ecologist magazine.
Speaking before parliament on Wednesday, Cameron argued that Khan has shared the same platform with cleric Suliman Gani "nine times," while branding the imam as an Islamic State (IS, ISIS/ISIL) "supporter" and suggesting that the association could reflect bad judgement on the part of the Labour candidate.
"If we are going to condemn not just violent extremism, but also the extremism that seeks to justify violence in any way, it is very important that we do not back these people and that we do not appear on platforms with them," Cameron said in response to a Conservative MP's question on extremism, as cited by the Telegraph.
READ MORE: Corruption & bribery rife in UK, 28% of bosses say

"We're not always responsible for what our political opponents say, but if you do it time after time after time, it is right to question your judgement," he stressed.
Cameron then took a defensive stance in reacting to the outrage caused by his comments. Labour party leader Jeremy Corbyn slammed Cameron's words as "disgraceful."
"This man [Gani] supports IS. I think they are shouting down this point because they don't want to hear the truth," the PM claimed.
Arguably, the most intriguing part of Cameron's attack on Khan, is the actual party affiliation of Gani, who has taken an active part in the Tory's general election campaign and even met Goldsmith in person.
What's the point of UK Muslims condemning terrorism if #DavidCameron can slander a Muslim scholar like Suliman Gani for supporting #ISIS?

— Ismail Ibrahim (@IsmailIbrahimMS) 20 апреля 2016 г.
Gani retaliated with a series of tweets in which he called Cameron's observations "defamation at its highest level" while urging the PM to "reflect and retract" his comments.
Conflicting with Cameron's claims that Gani has supported the terrorist group, Gani previously took part at an anti-terror event named "The Evils of ISIS" in January.
"I was like gob smacked; I was shocked; I couldn't believe it. I was very disheartened and I felt betrayed. I felt this is hypocrisy, because I attended a Conservative Muslim forum event invited by the Conservative candidate for Tooting… to encourage more Muslims to become Conservative councilors," Gani told BBC in an interview, in which he described his support for the Tories. Goldsmith was also present at the meeting held in Tooting last year on November 17.
"I met him [Goldsmith] in person I shook his hand," added Gani.
"The prime minister's desperate dog-whistle has now totally backfired. It now turns out that Suliman Gani campaigned for the Tories at the 2015 General Election, met Zac Goldsmith in November last year and campaigned against Sadiq Khan because of his support for same sex marriage," said Neil Coyle, a Labour MP while commenting on the apparently absurdity of Cameron's allegations, according to the Guardian.
Disgraceful attack on @SadiqKhan . Clear that Cameron will do & say anything to try to stop Lab's candidate becoming Mayor of London. #shame

— Wayne David (@WayneDavid_MP) 20 апреля 2016 г.
Cameron sinks into the gutter in a desperate bid to prop up his failing candidate. Demeans his office. Shame on him. #PMQs

— Andy Slaughter MP (@hammersmithandy) 20 апреля 2016 г.
By accusing Khan of having links with extremist sympathizers, Cameron, in fact, was parroting accusations made earlier by Goldsmith. Speaking at the launch of his campaign, the Tory candidate accused Khan of dodging questions about his past. He "has tried to silence questions about his links by shamelessly accusing anyone who raises them of being Islamophobic," said Goldsmith, claiming that his opponent had "provided cover for extremists" as a human rights lawyer.
Khan has denounced all accusations that he has links to terror groups, expressing disappointment over Cameron joining his rival's "divisive, dog-whistling campaign." Goldsmith, however, denied ever calling Khan an extremist during a BBC mayoral debate held earlier.
"I have made it very, very clear that I have never suggested that Sadiq Khan is an extremist, in any way at all. No one associated with my campaign team has called Sadiq Khan extreme," he added.
While admitting that he does "regret giving the impression I subscribe to their views," Khan reiterated that his main priority as a mayor will be "keeping Londoners safe" and to "put an end to radicalization in Britain."
Khan is leading in the polls, with a recent survey by ComRes putting his support at 44 percent, while Goldsmith trails with 37 percent. In case of a run-off, Khan is expected to win the position of London's new mayor by 10 percent, the survey says.
You can share this story on social media: