Time to go, Dave? Cameron's ratings slump over EU vote & tax affairs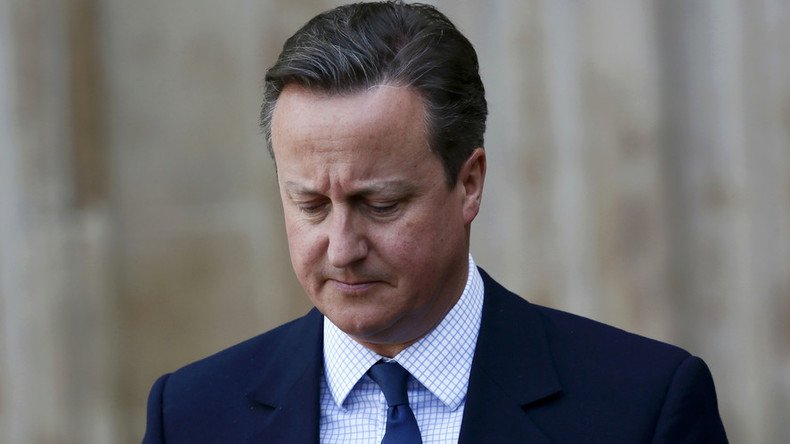 Prime Minister David Cameron's approval ratings have plummeted 8 percent over his handling of the EU referendum. The 'Leave' and 'Remain' campaigns are neck-and-neck amid growing uncertainty of Britain's future in the bloc.
A YouGov poll carried out for the Times on Thursday found that 39 percent of voters support Britain staying in the EU, equal to those who back a Brexit.
The survey comes amid growing calls for the PM to resign over his bungled handling of the June referendum and revelations of his past investments in offshore tax havens.
Cameron's approval ratings on the issue of the EU referendum have fallen 8 percentage points since February 21-22, to just 21 percent.
Meanwhile, Labour Party leader Jeremy Corbyn's ratings have risen 2 points in the same period to 28 percent.
Corbyn made his first major intervention on the EU debate on Thursday, throwing his weight behind the Remain campaign.
Cameron is widely considered to have endured the "worst week" of his premiership last week, when the Panama Papers leak exposed his late-father's connections with offshore legal firm Mossack Fonseca.
The embattled PM has faced further scrutiny for receiving a gift of £200,000 (US$283,000) from his mother, in addition to the £300,000 inheritance he received following the death of his father in 2010.
Critics have accused Cameron of deliberately avoiding inheritance tax, a practice he defended in Parliament on Monday as an act of "aspiration."
Calls for the PM to resign are growing across the country. In an opinion poll on the Daily Express website, 83 percent (3,510 people) said Cameron must step down following the row over his personal finances.
According to the YouGov poll published by the Times, the number of people who feel the PM should resign after the referendum has increased by 13 points, to 31 percent.
The number of people calling for Cameron's resignation in the event of a Brexit is even higher. According to an Ipsos MORI survey carried out last month, 48 percent of Brits think the PM should step down if he fails to keep the UK in the EU.
Conservative peer Lord Tebbit, who is backing Brexit, has previously said it would be "extraordinarily difficult" for Cameron to stay on as PM if Britain votes to leave the bloc.
You can share this story on social media: