Syria's destroyed Arch of Triumph is recreated in London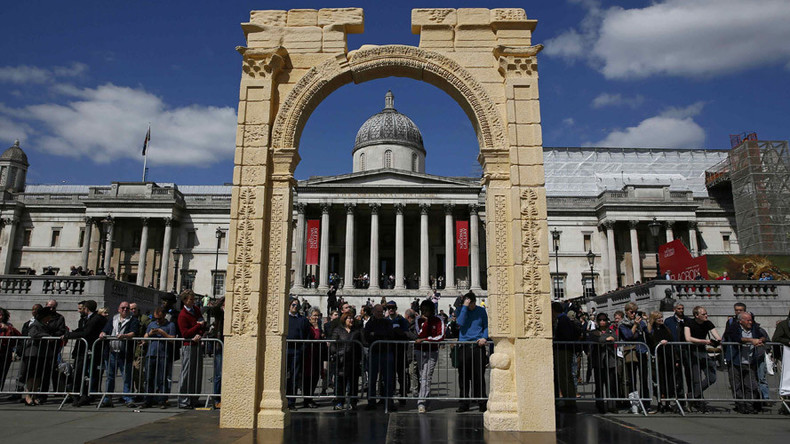 A replica of Palmyra's 1,800-year-old Arch of Triumph that was destroyed by Islamic State in October has been erected in London's Trafalgar Square.
The £100,000 recreation has been made using 3D photographs collected by the Institute of Digital Archaeology (IDA) to produce an accurate representation of the UNESCO World Heritage site. Its presence in London coincides with World Heritage week.
The Arch, made from Egyptian marble, will visit Times Square in New York, as well as Dubai and other cities before being sent to Syria next year, where it will be placed close to where the original stood.
Maamoun Abdulkarim, Syria's director of antiquities and museums was in London to witness the event that he described as an "action of solidarity".
"It is a message of raising awareness in the world. We have common heritage. Our heritage is universal - it is not just for Syrian people," he said.
When Islamic State (IS, formerly ISIS/ISIL) captured Palmyra last May, they destroyed many of the ancient monuments in the UNESCO World Heritage site using explosives and bulldozers, considering them to be sacrilegious, and the and a propaganda tool.
The arch was built between 193 and 211 AD to honor the Roman emperor Septimius Severus. The area has been described as a crossroads of several civilizations.
Palmyra was taken back by the Syrian army in March. While some Syrians have returned to their homes, the city has a heavy army presence to defuse the multiple explosive devices the terrorists left behind.
Maamoun Abdulkarim visited Palmyra a week after the city was taken back, and says as much as 80 percent of the monuments remain.
IDA Executive Director Roger Michel, who first realised the IDA's database of 3D images could be used to create the arch, wanted the replica to be erected in London because the city was rebuilt after the Blitz in World War Two. "It is extraordinary to have a vision about something and see it come together in such a palpable way," he said.
Palmyra's historical sites once attracted 150,000 tourists a year.