Project Fantasy or Project Fear? EU Referendum campaign officially begins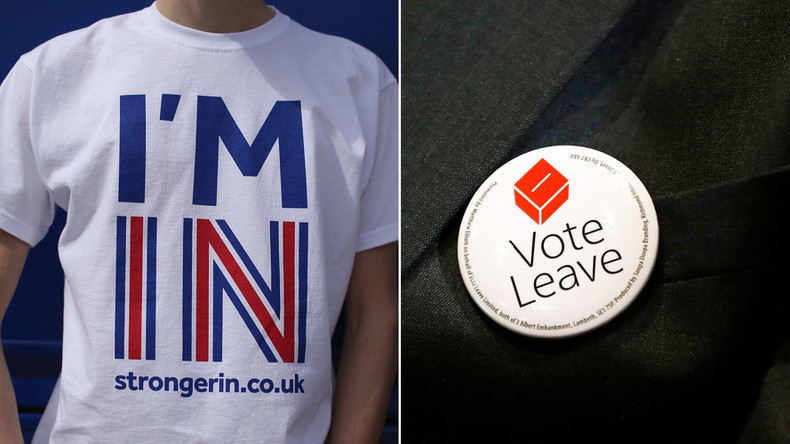 Britain's EU referendum campaign officially kicked off on Friday, with both sides warning of the perils of voting to either to leave or remain in the union. RT looks at how the first day of campaigning went for both camps.
With 10 weeks to go before polling day, the Leave and Remain campaigns were out in force at events across the country in a bid to convince a divided Britain which way to vote on June 23.
The Remain campaign started with typical warnings of catastrophe if Britain leaves the EU, with former Labour minister Alistair Darling describing Brexit as a "colossal surrender of power."
The Leave campaigners seized on the huge fees Britain pays out to the EU for the privilege of membership, arguing that money could be diverted to the NHS.
RT examines some of the biggest news stories from the first day of the EU referendum campaign.
Darling attacks 'Project Fantasy'
New Labour heavyweight Alistair Darling accused Brexit campaigners of promising a "fantasy future" outside the European Union.
The former minister under premiers Tony Blair and Gordon Brown appears to set out his own project fear, describing the uncertainty around Britain's future in the EU as "dark clouds gathering on the horizon."
"As a country whose long-term economic recovery relies on the health of our exports and our regulatory environment being attractive to global investors, it would be a colossal surrender of power to walk away from our largest trading partner, increase uncertainty, erect trade barriers and diminish our influence," he said.
BoJo blasts Obama over EU intervention
London Mayor Boris Johnson accused US President Barack Obama of being a "hypocrite" after he announced he would visit the UK next week in a trip widely interpreted as an endorsement of the Remain campaign.
Johnson said he didn't mind Obama joining the debate, but argued he sets double standards.
"Where I do mind, is that it is plainly hypocritical for America to urge us to sacrifice control — of our laws, our sovereignty, our money and our democracy — when they would not dream of ever doing the same."
The London Mayor's fiery criticism echoed UK Independence Party (UKIP) leader Nigel Farage, who described Obama as "the most anti-British American president there has ever been."
Brexit camp promises NHS boost
Vote Leave's co-chair Gisela Stuart told BBC Radio 4 that if Britain leaves the EU it would free up £10.6 billion currently spent on membership to invest in the NHS.
Stuart described leaving the EU as the "safer choice" given the NHS funding crisis.
"If we vote leave we will be able to stop handing over £350 million a week to Brussels and we will be able to instead spend our money on our priorities like the NHS. This will improve patient care," she said.
When Britain's rebate is taken into account, the country's weekly contribution totals £276 million a week.
PwC warns of massive job losses
Consultancy firm PricewaterhouseCoopers warned Britain could lose up to 100,000 financial services jobs if the UK votes to leave the EU.
The company, which was heavily criticized by the House of Lords in 2011 for its complacency in the run up to the 2008 financial crisis, said Brexit would cause a serious shock to the UK economy.
PWC said finance jobs would return to the City of London in the long term, but it could take up to 15 years. In the meantime the British economy would lose an estimated £5 billion, or roughly one percent of the bank rescue package drawn up in 2008.
Govt hides obligations to EU
Leave campaigners accused the government of trying to "bury" an official report into Britain's obligations to the EU.
"It's shocking that the Government has cynically buried its own report because it admits how much control we've handed to the EU," Leave campaign chief executive Matthew Elliot said.
"It makes clear that EU law and EU judges trump British law. The Charter of Fundamental Rights has been used by the EU to undermine our security and put up every day costs like insurance bills."