'Obama shelters IRA sympathizers': Tory MP blasts US president in Brexit row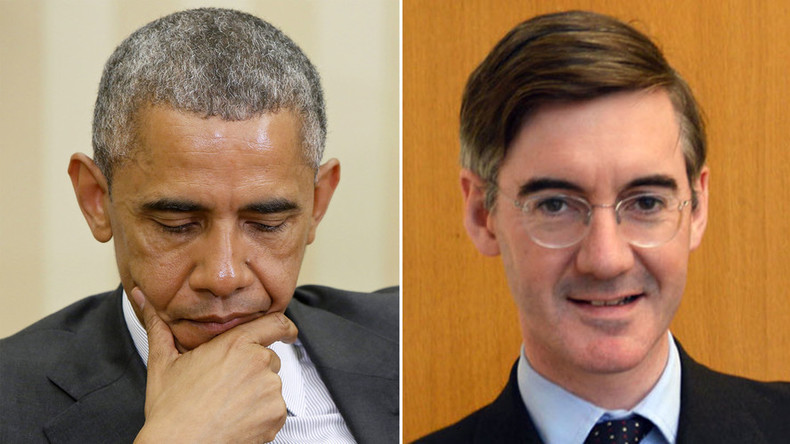 US President Barack Obama has been attacked by Tory MP Jacob Rees-Mogg over his support for Britain remaining in the EU. It included accusations that Obama hired IRA sympathizers to work for his administration and comes ahead of the president's UK visit.
Obama will be in London next week "as a friend" of the UK, advising the country to stay in the European Union, according to the president's national security advisor. The referendum campaign officially kicked off on Friday.
But prominent Leave campaigner Rees-Mogg issued a scathing attack on the president, describing him as "rather unsuccessful."
"I don't mind him coming over to say what he wants because I think it helps Brexit," the Tory MP told House magazine.
"I can't think the British people will want to be told what to do by a rather unsuccessful American president who has had one of the least successful foreign policies in modern history."
Rees-Mogg went on to question whether the president was really a friend of Britain, alleging that his vice-president and secretary of state have a "history of hostility" towards the UK.
"In the 1980s Joseph Biden and John Kerry voted against extraditing our terrorists immediately after the Brighton bomb. They held it up in a senate committee … Bear in mind the whole Cabinet has almost been murdered [in an IRA attack]. It was within a whisker of that happening. And John Kerry and Joe Biden held up an extradition treaty in the Senate because they were sympathetic to the IRA. That's really pretty shameful."
UK Independence Party (UKIP) leader Nigel Farage echoed Rees-Mogg's comments, labeling Obama the most anti-UK president in history – overlooking, perhaps, American Revolutionary hero George Washington.
"Mercifully, this American president, who is the most anti-British American president there has ever been, won't be in office for much longer, and I hope will be replaced by somebody rather more sensible when it comes to trading relationships with this country," Farage said.
Word of Obama's visit has already stirred up anger among some Leave campaigners, who view it as "patronizing."
In January, Philip Hollobone MP called on the leader of the house, Chris Grayling, to write a letter to Obama advising him to stay quiet on "domestic issues" in the UK.
Obama's national security spokesman said the president would be visiting to offer "candid advice," and would only comment on the EU referendum if asked.
During his trip, Obama will have lunch with the Queen, hold a bilateral meeting with Prime Minister David Cameron and hold a so-called 'town hall' with young people.
It's those young people who could prove crucial to either campaign's success. With polls currently estimating just half of 18-34s plan to vote in the referendum, pundits believe Obama's intervention could inspire millennials to back the 'Remain' campaign.
"He will make it clear it is a decision for the people of the UK to make, not ours," Obama's National Security Adviser Ben Rhodes said.
"I am sure he will have plenty of opportunities to be asked this question. He will be very candid as [a] friend that it is important for the UK to remain in the EU."