British subs eye resuming Arctic patrols after decade-long pause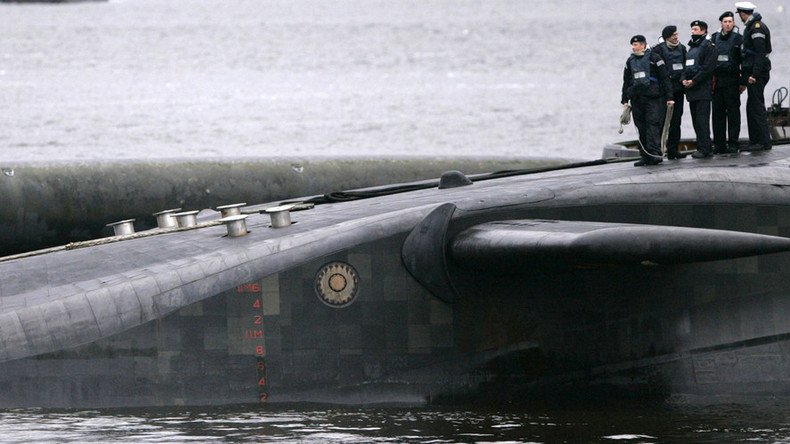 Her Majesty's attack submarines are set to return to the Arctic after a nine-year pause taken after a fatal incident, the Sunday Times reports. Activity in the resource-rich area is heating up, with interest coming from a number of nations, including Russia.
Anti-submarine warfare patrols by the US and UK under the Arctic icecap were part of the Cold War and the military stand-off with Moscow. The environment is challenging, as ice poses navigation problems and requires special caution during surfacing.
The UK continued Arctic submarine deployments well after the collapse of the USSR, until in 2007 a blast on board the nuclear-powered HMS Tireless killed two seamen and injured one other. The incident happened during a joint exercise with the US Navy and led to London suspending such missions.
Now Britain's seven attack submarines are to come back to the frigid northern waters, the Sunday Times reports.
The Royal Navy has sent two officers, Lieutenant Commander Jimmy Moreland and Lieutenant Sam Harris, to sail with the USS Hampton, a Los Angeles-class nuclear-powered fast attack submarine of the US Navy, the newspaper said. They traveled through the Bering Strait to Camp Sargo, a US command centre floating on an ice sheet 170 miles (273km) north of Prudhoe Bay in Alaska.
READ MORE: Ice breaker: US nuclear submarine bursts through frozen Arctic ice (VIDEO)
The aim of the mission is to train how to navigate below ice floes and "punch" through them.
"We will use their experience and learning to prepare one of our Trafalgar class boats to operate under the ice, before rolling out this capability across our entire attack boat flotilla," Rear Admiral John Weale, head of the submarine service, said in a Navy press release published earlier in the week.
The head of the RN Submarine Service Rear Admiral John Weale also said the programme was "a key step to returning our attack submarines to the under ice battle space".
British sailors need Arctic experience as the region is becoming increasingly accessible. Russia made one of its military priorities the rebuilding of old Soviet facilities in its north to make its portion of the region defendable.
READ MORE:Amphibious 6-wheel Burlak: Future North Pole conqueror to rough it in Kara Sea (VIDEO)
The Arctic holds vast natural resources, which may become a focus of confrontation between five northern nations: the US, Canada, Denmark, Norway and Russia. Britain has no territorial claims, but is likely to support its NATO allies.
You can share this story on social media: