Amphibious 6-wheel Burlak: Future North Pole conqueror to rough it in Kara Sea (VIDEO)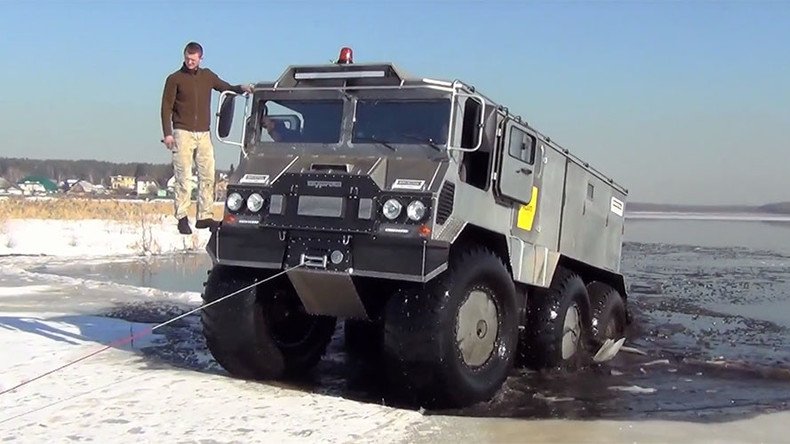 Russian engineers dreaming of autonomous auto expedition to the North Pole are testing a unique amphibious six-wheeler that could carry up to 10 researches to the planet's extreme and back, enabling the first ever trans-Arctic journey on a vehicle.
The 7-meter-long off-roader dubbed 'Burlak' (hauler) is a real go-anywhere vehicle. Initially it was a BTR-60 armored fighting vehicle. Today, it's absolutely unrecognizable as all-terrain monster with wheels as tall as a man. The vehicle's load capacity is 3 tons.
Burlak's house-type body is heavily insulated, equipped with kitchen, shower and other amenities. All the vehicle's systems and engine have access from the inside of the shelter, which has a single space with a driver's cockpit.
On the water, the vehicle floats using a propeller and its hull nose is fortified to make it possible to push through drifting ice. Burlak's diesel engine is not excessively powerful, being chosen primarily for fuel consumption efficiency.
The Automotive Transarctic Expedition is a privately-sponsored undertaking initiated in 2009 by engineer Aleksey Makarov from Ekaterinburg. Makarov was inspired by the first-ever auto trip to the North Pole performed by traveler Vasily Elagin in 2009. But Elagin expedition's Yemelya vehicles were ultimately left at the North Pole, while the participants were evacuated by helicopters.
The ATE team wants to make an autonomous journey and actually return to the mainland in the same vehicles, without creating supply posts with the help of Arctic aviation. The expedition is planned to operate two Burlak off-roaders during the journey. Vasily Elagin has been announced as one of the participants.
Now Burlak is getting ready for its first serious test: a three-week expedition along Baydaratskaya Bay on the Kara Sea.
"We want to learn whether there are any flaws in the vehicle's construction to be re-worked," TASS cited Makarov, still expressing confidence that major test run on the land and on the water and drifting ice is going to prove Burlak's high performance.
During the test journey, Burlak is to be accompanied by another six-wheeler of Makarov's design, the all-terrain Makar rover, which has a proven record of reliability. The off-roader has already made a to-and-fro trip to Cape Chelyuskin, Russia's and the Eurasian continent's northernmost point, situated at the tip of the Taymyr Peninsula.
If proven successful, the second Burlak vehicle is going to be produced and the Automotive Transarctic Expedition will set off to a polar station at Russia's Severnaya Zemlya archipelago in 2017. The quest to the North Pole is planned to take place in 2018.
You can share this story on social media: