Trump is 'offensive, absurd & dangerous' – Alex Salmond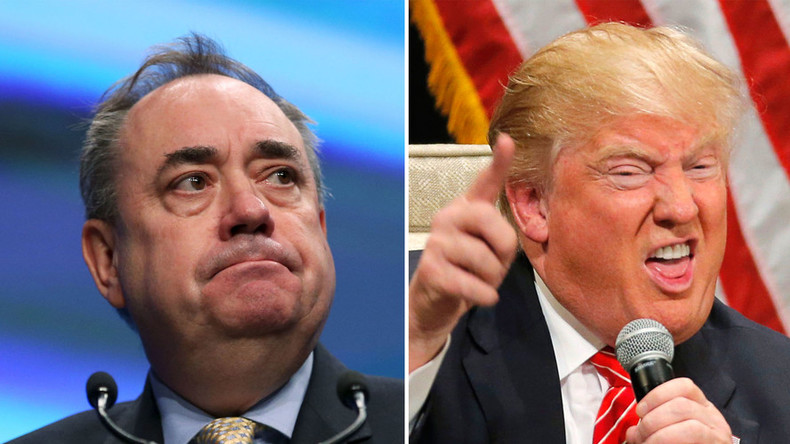 Donald Trump's policies are dangerous, former Scottish First Minister Alex Salmond has said, warning US citizens not to vote for the Republican presidential hopeful.
Speaking in New York at a 'Scotland Week' event, Salmond addressed an audience at the Hudson Union.
"It is perfectly legitimate for people round the planet to have a view on American politics. After all, American politicians, including the president himself, spoke freely about the Scottish referendum," he said.
"In Mr. Trump's case, he speaks about Scotland all the time. The task is to say something that might hit home."
Salmond went on to explain his aversion to Trump, citing offensive policies and childish behavior.
"Therefore, it is this. It is not really the job of a Scottish or any European politician to make a choice between Democrat and Republican, or left and right. That is the task of the citizens of this Republic. However when asked to choose between sanity and insanity then it is not difficult to have a view.
"The Trump rhetoric is offensive, his program absurd and his conduct dangerous. To describe his politics as that of the playground would be a slight to the standard of debate in playgrounds across America.
"Sooner rather than later the American people will put him back in his television box and out of the Presidential ballot. In particular, no self-respecting Scots-American should countenance a Trump finger anywhere near the nuclear button," Salmond said.
Earlier in the year Salmond said Trump was "chicken" for not appearing on his radio show. He had challenged the billionaire to a debate.
After Trump failed to call Salmond said he would keep challenging the Republican frontrunner "and maybe 'chicken Donald' will catch on."
Trump has also dealt Salmond a blow or two. He called the MP "an embarrassment to Scotland" who has destroyed sections of the country's landscape with wind turbines.