'Donald Trump is too chicken to debate,' says Alex Salmond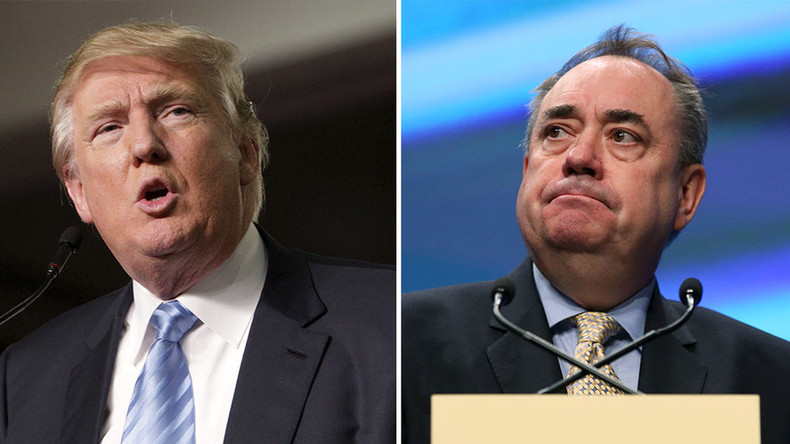 Former Scottish National Party (SNP) leader Alex Salmond has branded US presidential hopeful Donald Trump "chicken" for refusing to join a debate on his new radio show.
The former first minister of Scotland challenged the controversial American billionaire to a radio debate last week.
But after Trump failed to call on Wednesday, Salmond said he would keep challenging the Republican frontrunner "and maybe 'chicken Donald' will catch on."
Salmond's comments are the latest in a war of words between the two men, which escalated last week after Trump labeled the former SNP leader "an embarrassment" to Scotland.
When the US presidential hopeful failed to phone in to Salmond's show, co-host Iain Dale asked the former SNP chief whether he thought Trump was "chicken."
Salmond responded: "The Donald tries to give this impression that he's totally off the cuff, in fact his media operation controls him and protects him from tough interviews, and when he's had tough interviews he hasn't liked it, that's been pretty obvious.
"So, I've got the feeling that he'll be loath to come on because both you and I would answer him back, just as he'd be loath to get interviewed by the top interviewers.
"If he doesn't come on, we'll keep challenging him and maybe 'chicken Donald' will catch on," he added.
Last week Salmond, who currently sits as MP for Gordon, challenged Trump to a radio debate over the the US billionaire's controversial International Golf Links development in Aberdeenshire, Scotland.
He also suggested that Trump had overstated his investment in Aberdeenshire and that the Turnberry golf resort that the billionaire owns could actually lose the country money.
Salmond was answering a question posed during the first broadcast of his new LBC Radio show, aired on Wednesday January 13.
Trump responded by calling the MP "an embarrassment to Scotland" who has destroyed sections of the country's landscape with wind turbines.
"For a long period of time Turnberry, while always successful, was not properly reinvigorated with the massive amounts of capital necessary," he said.
"I am investing a minimum of £200 million [US$282 million] initially, including rebuilding and renovating the great Ailsa course, a new second course and the total renovation of the magnificent Turnberry hotel which is already under construction."
You can share this story on social media: