#PanamaPapers: Ex-UN chief Kofi Annan's son implicated in offshore London property deal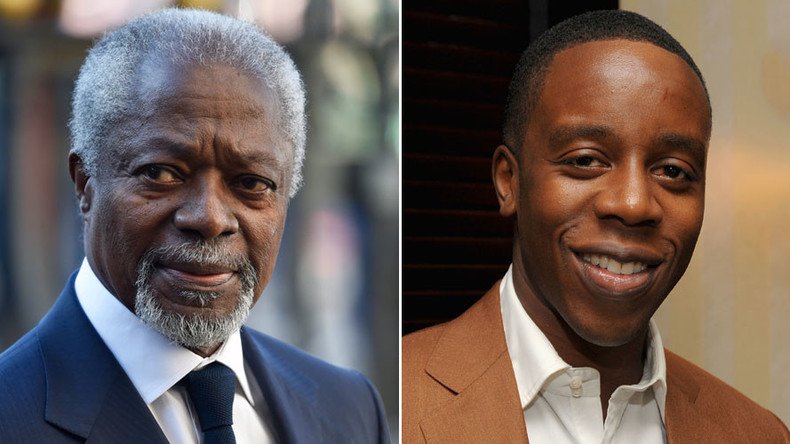 The son of former United Nations Secretary General Kofi Annan is among hundreds of high-profile figures named as having links to offshore firms in the largest ever document dump in journalistic history.
The so-called Panama Papers, 11.5 million internal files leaked from the secretive Panama law firm Mossack Fonseca, revealed that 42-year-old Kojo Annan purchased an apartment in central London for £400,000 (about US$560,000 at current rates) in 2004 through an offshore company headquartered in the South Pacific nation of Samoa.
The property is now listed as being worth nearly £1.5 million. Documents show that correspondence continued between the Chelsea address and Mossack Fonseca into 2015.
In addition to being listed as the sole director of the Samoan firm Sapphire Holding Ltd, Kojo is also registered as a director of two other companies, based in the British Virgin Islands in the Caribbean.
In response to the allegations, a lawyer for Kojo denied any wrongdoing. Speaking to the Modern Ghana newspaper, the lawyer said that Kojo's companies "operate in accordance with the laws and regulations of the relevant jurisdictions."
Kojo's father Kofi Annan served as secretary general of the UN between 1997 and 2006. Although he was never prosecuted, Kojo fielded allegations of corruption and nepotism for helping his Swiss-based employer, Cotecna, secure a $10 million-per-year contract through the UN food-for-oil program while his father ran the world body.
READ MORE: Roll call of top Tory tycoons exposed in #PanamaLeaks
A 2005 report issued by a UN-appointed panel said, however, that it had found no evidence that Kojo used his connections to land the deal.
Kojo again courted controversy in 2006 when reports surfaced that he had bought a green Mercedes SUV eight years prior to claiming a £4,600 discount by listing his father as the car's owner. Kojo reportedly avoided an additional £7,900 in customs duties when shipping the car from Geneva to Ghana, where his family is based, by using his father's name.
You can share this story on social media: