Military industrial complex: British Army teams up with big business to swell ranks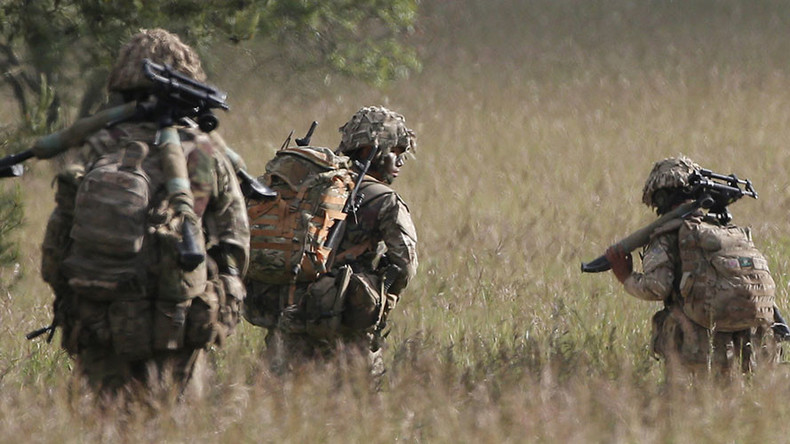 With recruitment in crisis, the British Army is teaming up with private firms to encourage their workers to join the Armed Forces' "woefully undermanned" reserves.
The army now has a group of officers at its Hampshire HQ who are dedicated "accounts managers," building relationships between business and the military, according to reports.
The initiative is led by reservist Major General John Crackett. He told the Financial Times on Tuesday his corporate background has prepared him for the role.
"I'm a businessman more than I'm an army officer," he said, claiming he is well placed to interpret what businesses want.
He said the military must get better at marketing itself by focusing on what it could offer employers.
"Reservists, if you think about them, are fit, they're more self-confident, they're more self-disciplined, they tend to be more loyal — they just make better employees," he said.
Bringing about a shift in business attitudes towards reserve service had been like "turning a supertanker around," he said. Employers had previously believed reservists would be away "every five minutes for long periods."
The British Army ranks have fallen over the last six years from 120,000 to around 82,000 as part of a program of far-reaching defense cuts.
It was hoped that reservists would pick up the slack created by austerity. Since recruitment was privatized, however, new personnel have been hard to attract.
In January, whistleblowers told the Express newspaper that only one in 10 recruits turn up for duty, leaving units "woefully undermanned."
One senior source from a reserve cavalry unit in the North of England said that of 100 soldiers on the detachment's books only 12 to 15 turned up for evening sessions.
On weekend exercise it was common to only have half a dozen soldiers, including instructors.
"I have been informed by other units this is not uncommon," the source added.
You can share this story on social media: