Grave robbery: Surge in 'paupers' funerals' as British bereavement costs mount
Published time: 31 Mar, 2016 13:45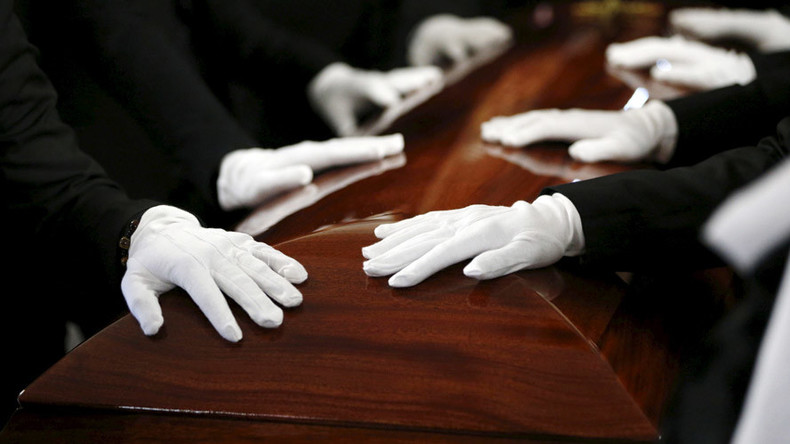 Funerals in Britain have become so expensive that one mother was forced to have her son's body frozen for several months so she could save up enough money to pay for him to be buried.
MPs on the Work and Pensions Select Committee were so shocked by the incident they're calling on the Competition and Markets Authority to look at how funeral homes are ramping up prices, leaving grieving low-income families deeply distressed and shackled with debt.
In a damning report, published on Thursday, the committee told the government watchdog to investigate funeral directors' fees. They want to see action within the industry focused on curbing funeral costs for low-income households.
It was found that prices can fluctuate considerably within the same region, ranging from £990 to £3,000 (US$1,420 to $4,300).
According to pensions company Royal London, the average cost of a funeral in 2015 was £3,702 – almost 4 percent higher than 2014, despite low levels of inflation.
"We did not set out to inquire into the funeral industry, but it soon became apparent that the interaction between an opaque and outdated public system of bereavement support and a market in funeral services which simply does not operate 'normally' is causing problems," Labour MP and Chairman of the Work and Pensions Select Committee Frank Field said.
"We are concerned by the lack of protection in the market for bereaved customers, particularly those on low incomes. They are vulnerable and may not be inclined to shop around. This is not conducive to effective operation of the market."
Field outlined how the Committee saw the destructive impact rising funeral costs are having on people.
"We heard clear evidence of the distressing circumstances and debt this is leading people into, at a time when they are grieving and vulnerable," he said.
"We do not want a return to the specter of miserable 'pauper's funerals.'"
The National Association of Funeral Directors (NAFD) concedes burials are becoming more expensive.
"Funeral costs are rising, of that there is no doubt and the NAFD has welcomed this and other opportunities to work with the government to address this issue," a spokesman for the group told the Telegraph.
"However, liberally berating funeral directors, who work in the main for very small businesses, is not the way to address this."
The NAFD also appeared surprised that the committee did not probe cremation or burial authorities.
"We were surprised that the committee did not hear evidence from any cremation or burial authorities who are crucial to understanding the make-up of funeral costs," he said.
"With these costs shown on a funeral director's final bill, it is vital that the role of the increasing cost of cremation and burial charges play in the funeral price inflation figures quoted by Royal London are properly scrutinized. These lie outside of funeral directors' control and have not been addressed in this report."