UK appeals 'incorrect' UN claim that Assange is under 'arbitrary detention'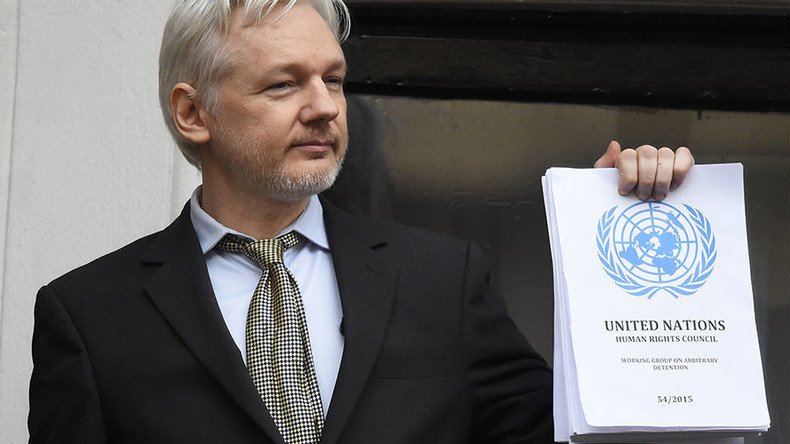 The UK Foreign Office has sent a strongly-worded response to the UN-sanctioned Working Group on Arbitrary Detention (WGAD), which found last month that WikiLeaks founder Julian Assange has been illegally deprived of his freedom and rights.
"The Working Group's Opinion is deeply flawed and Mr. Assange has never been the subject of arbitrary detention. His human rights have been protected throughout the process and will continue to be protected if and when he is extradited to Sweden," said an official statement.

The document points out that Assange was charged with sex offenses pertaining to two women by Sweden's legal system in late 2010, and had "appealed first to the High Court and subsequently to the Supreme Court."
"He lost at all stages. The fact that the court process took some 18 months cannot be considered excessive or unfair in any way. During this period he was granted bail and so cannot be considered to have been detained," says the UK.
Since August 2012, when it became clear that the Australian citizen would no longer be able to avoid arrest and extradition, Assange has been sheltered by the Ecuadorian embassy in London.
READ MORE: 'UN decision undeniable victory, Sweden & UK lost,' Assange tells crowds in London
"[Assange] is in fact voluntarily avoiding lawful arrest by choosing to remain in the Ecuadorean Embassy. The UK continues to have a legal obligation to extradite him to Sweden…The original conclusions of the UN Working Group are inaccurate and should be reviewed. We want to ensure the Working Group is in possession of the full facts."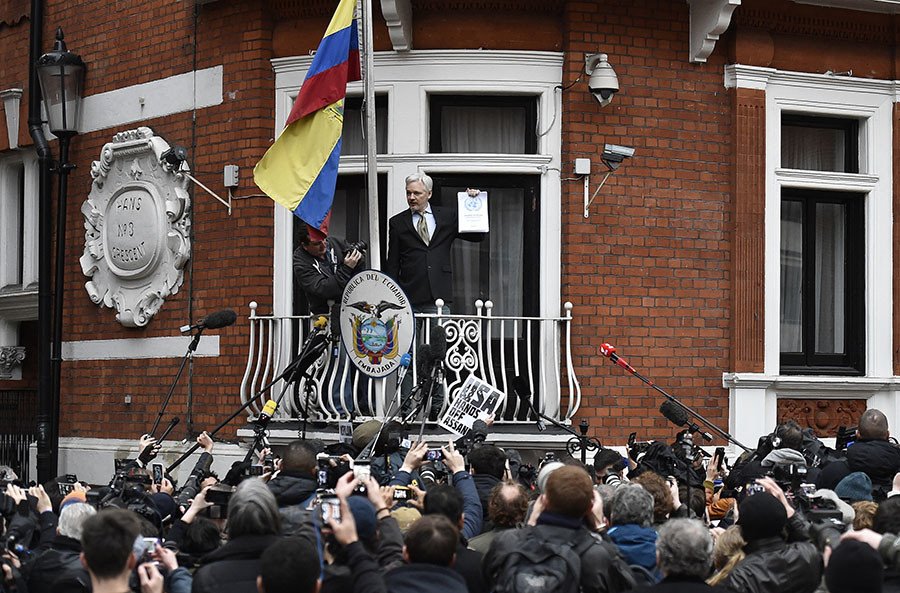 Assange has vehemently denied the accusations, and says that being taken to Sweden would pave the way for a further extradition to the US, where he will likely be detained for helping the currently-imprisoned Chelsea Manning leak US diplomatic cables in 2010. The 44-year-old proudly brandished the WGAD report before the media last month, and his legal team has rejected the UK's latest moves.
"In the absence of any objective basis to seek reconsideration, this rebuttal appears to be an attempt to publicly undermine the working group's opinion," his legal advisor, Melinda Taylor, told the Guardian.
The WGAD panel, whose decisions serve as recommendations, but have no legal power, reached a majority decision on Assange. In its ruling, the legal experts accused Swedish prosecutors of a "lack of diligence" and said that the whistleblower deserves not only to be set free, but is entitled to compensation.
The panel will now hear the UK's appeal during its next session in April.
Meanwhile, while several of the lesser charges against Assange have been dropped because their statute of limitations had been reached, the rape allegation against him is not due to lapse until 2020.
READ MORE: RT counts the financial & health costs of Assange's 'arbitrary detention'
You can share this story on social media: