'Kill the Housing Bill!' Tenants protest Tory attacks on social housing
Published time: 11 Mar, 2016 17:42
Edited time: 11 Mar, 2016 17:45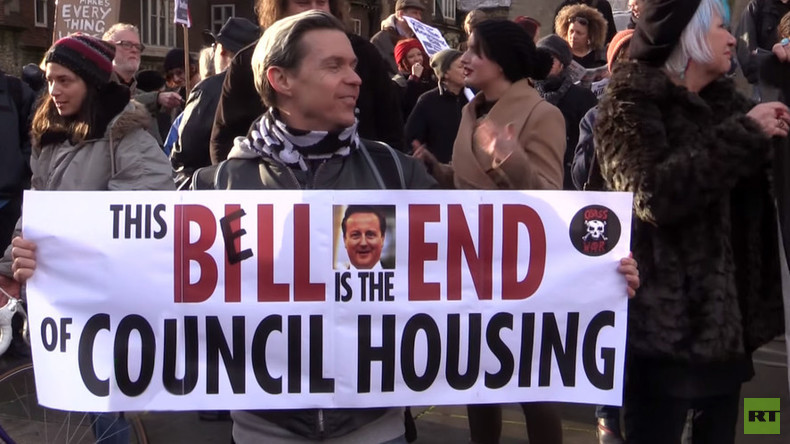 Thousands will protest the Tory government's Housing and Planning Bill on Sunday. Far from solving the UK's housing crisis, activists say the legislation will deepen inequality and division within society.
Britain's housing crisis has been caused by a lack of affordable homes. In December 2015 London house prices rose by 9.4 percent to £536,000, according to the Office for National Statistics.
"Average house prices are now 12 times average London pay… It effectively puts home ownership out of reach for a majority of ordinary Londoners," cross-bench peer Lord Kerslake told reporters this week.
The Conservative government's Housing Bill aims to promote "starter homes" by selling properties at a 20 percent discount, as well as introducing a "pay to stay" scheme, which will attempt to cut off subsidies for some council tenants.
However, local authorities across England think the plan will force families out onto the street. Single parent Debra L'Esteve and her 11-year-old daughter live in accommodations owned by Camden Council. Speaking to RT, she said that under the new 'pay to stay' provisions, their rent would become "almost four times more expensive."
Suffering from a disability, Clapham resident Trace Newton, 56, is "terrified" for her future.
"As a disabled person, the possibility of not having secure housing within a stable, supportive community terrifies me. Insecure housing causes suffering on so many levels. It is inevitable the Housing Bill will have serious consequences for the whole of UK society, in particular the most vulnerable residents," she told RT.
Another Camden council tenant, Sarah Quigley, said: "I live in a one bedroom council flat with my partner and two young daughters, and I am a carer for my disabled mother, who lives nearby."
"If the Housing Bill is passed there is no way we will be able to get the two-bed council flat that we need, and it will mean that I can no longer afford to live in Camden, or even London, where I have lived all my life," Quigley added.
Also opposing the bill, council tenant Steve Hack called the measured an "injustice" and "an attack on the very poorest by the very richest."
Kill the Housing Bill campaigners will protest against the legislation on Sunday.
"The Housing Bill is supposedly designed to solve the housing crisis. But in fact it's not only going to make the housing crisis much worse but it's also going to increase inequality and division within society. In many places in the UK, especially in London, the ability to access the house – the basic human right of having a house – is becoming increasingly out of grasp for a large proportion of the population," a spokesperson for the campaign told RT.
"This Housing Bill is redirecting the millions of pounds from building affordable housing to building housing for the rich and building landlords and developers. It is a massive transfer of assets from the poor to the rich. This is going to worsen housing crisis and cause even deeper inequality."
In an article for the Sunday Times in January, Prime Minister David Cameron wrote: "I believe we are in the middle of a turnaround decade for Britain. And it all comes back to one word: security … bringing security to families who currently have none at all."
"Of course, within these so-called sink estates, behind front doors, families build warm and welcoming homes. But step outside in the worst estates, and you're confronted by concrete slabs dropped from on high, brutal high-rise towers and dark alleyways that are a gift to criminals and drug dealers," Cameron said.
"The police often talk about the importance of designing out crime, but these estates actually designed it in. Decades of neglect have led to gangs, ghettos and anti-social behavior. And poverty has become entrenched, because those who could afford to move have understandably done so."
"We will work with 100 housing estates in Britain, aiming to transform them … For some, this will simply mean knocking them down and starting again. For others, it might mean changes to layout, upgrading facilities and improving local road and transport links."