Tory Housing Bill will spark rise in homelessness, say local authorities
Published time: 4 Mar, 2016 14:43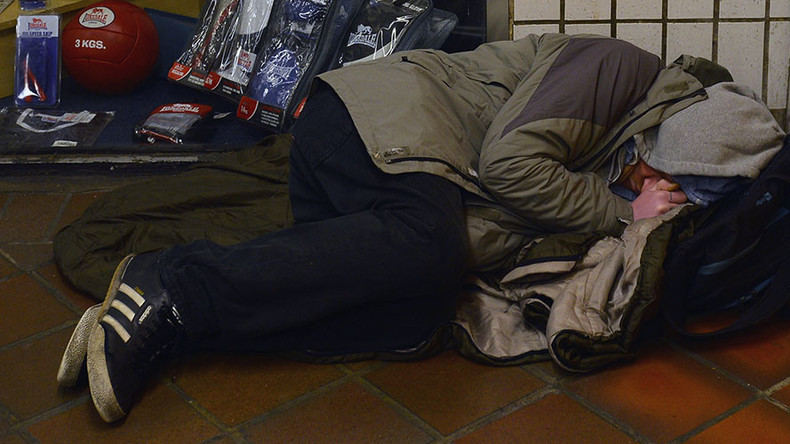 Homelessness will rise as a result of the Conservative Party's Housing and Planning Bill as it will eat into supplies of both temporary and permanent housing, councils across England warned on Thursday.
The bill aims to subsidize and promote "starter homes" by selling them at a 20 percent discount, as well as introducing a "pay to stay" scheme, which will attempt to cut off subsidies for some council tenants.
However, councils in England believe the plan will force families out onto the street.
Some 90 percent of local authorities responded to a survey by the Local Government Association (LGA), saying the bill would mean authority housing in their area would be drastically oversubscribed.
The councils also said they would struggle to provide even temporary housing for families without homes.
The bill was also criticized by Labour peer Lord Beecham at the committee stage debate on Thursday when he said it had "little to offer" the British public.
Beecham added that even new homes with the 20 percent discount were unlikely to be within reach of many people on social housing registers. He said the program would mainly benefit people who already have capital, and advocated housing priced "no higher than is affordable for a household on local median income."
High-earning buyers could land "very large windfalls" of over £100,000 (US$140,000) from the scheme, Beecham said.
Independent peer Lord Kerslake added that because the discount is not passed on to successive buyers, it will only benefit a small group of people. Communities and Local Government Minister Baroness Williams also said the homes were only affordable to people earning more than £39,000.
The Tory policy also plans to extend the Right to Buy scheme to more than 1.3 million renters of housing association accommodation, and suggests that in order to compensate for the loss of assets, councils should sell their most expensive vacant housing.
The LGA said councils struggling with finances should not have to be responsible for the burden, adding they should keep money from council houses they sell.
Analysis from the LGA shows that unless councils have greater power to build homes from Right to Buy income, some 80,000 social homes could be lost by 2020.
LGA housing spokesman Councillor Peter Box said: "It is clear that only an increase of all types of housing, including those for affordable or social rent, will solve our housing crisis."