Homeless 'choose to sleep rough' comment by Tory peer provokes outrage
Published time: 8 Mar, 2016 13:13
Edited time: 8 Mar, 2016 18:13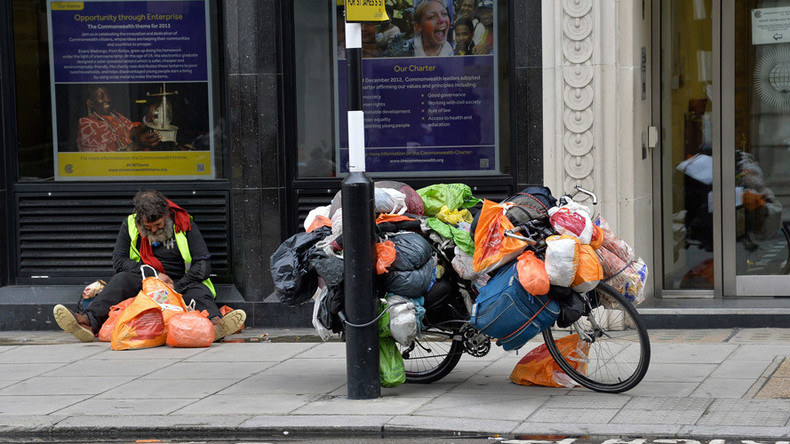 Tory peer Baroness Williams was blasted by homelessness charities after claiming homeless people 'choose' to sleep rough.
Williams argued on Monday during a session on rough sleeping that the reasons people are on the streets are "many and complex."
"A number of people do actually choose to sleep rough," she said.
"Without commenting on that, this Government are committed not only to tackling rough sleeping, ensuring that nobody spends a second night out, but in one local authority there is actually a no-first-night-out program in place," Williams added.
Another Tory, Lord Spicer, claimed there are more than 36,000 beds available for 2,744 homeless people.
He said the problem was not the unavailability of beds but a lack of willingness to take them up on the part of the homeless.
"In which case, what are Her Majesty's Government going to do about it?" he asked.
Charities were quick to rubbish the comments.
Crisis Head of Policy Matthew Downie told the Huffington Post on Tuesday: "Our research and experience tells us just how dangerous rough sleeping is: the average age of death for someone sleeping on the streets is just 47, while rough sleepers are thirteen times more likely to be a victim of violence.
"Given this context it is hard to conceive of someone making a rational choice to sleep on the streets," he added.
Paul Noblet from charity Centrepoint also told the Huffington Post that ministers' views simply "do not reflect the reality that for the young people we support rough sleeping isn't a lifestyle choice."
"They simply have nowhere else to go," he added.