Corbyn attacks New Labour's 'light touch' financial regulation
Published time: 3 Mar, 2016 14:28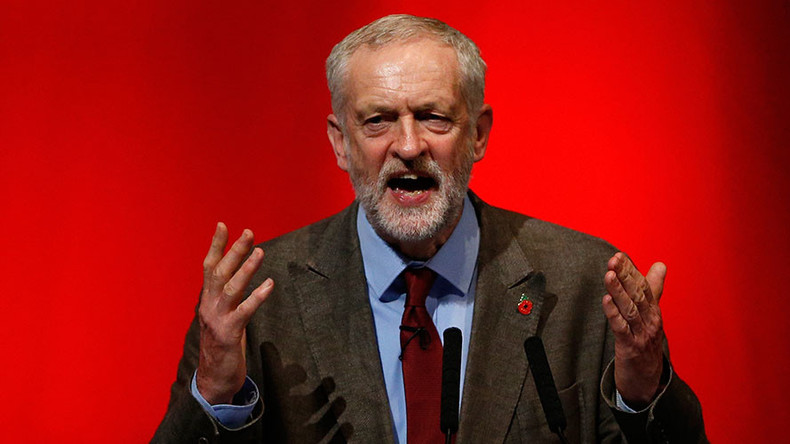 Labour leader Jeremy Corbyn has used a speech at the British Chambers of Commerce to try and exorcise the ghosts of Labour's recent past by criticizing the Blair-Brown era approach to financial regulation in the run up to the 2008 crash.
Taking a line more commonly used by the Conservatives to criticize their predecessors in office, Corbyn told business leaders the "light touch" of New Labour's financial regulations led to the banking collapse of 2007 and 2008.
He argued that if his party came to power it would "reform the major banks so that they serve the economy and not just themselves," and pledged to put state investment "center stage" of a Labour government.
At the BCC Corbyn said that only through cooperation between the state and markets, and an increase in public investment in science, tech and green industries, could the government achieve "rising living standards for all."
"George Osborne and Sajid Javid believe that the solution to the problems businesses and workers face is to cut back government," he said.
"But it wasn't government that was the problem in 2007 and 2008, when the banking sector nearly drove the entire economy to the point of collapse.
"The New Labour approach was to opt for 'light touch regulation' of finance – and then sit back and collect the tax revenues."
He called the previous policy "unsustainable" and called for a reform of the banking industry.
"But you cannot base a decent social policy on an unsustainable economic policy. And we cannot outsource economic policy to the City of London. That has not served our economy well, and it has not served business well.
"The banking sector has to be reformed. Finance must support the economy, not be an end in itself … and certainly not an extractive industry that looks at consumers, entrepreneurs and small businesses as a cash cow."
Corbyn also called for a new "national investment bank" that would target funds for business which support the economy as a whole, "not just in the interest of quick returns."
"We need a national investment bank to target fund investment on what is in the public wage and wider economic interest, not just in the interests of quick returns.
"And we need to reform the major banks so that they serve the economy not just themselves. That includes using the public stakes in banks such as RBS to drive lending and investment in infrastructure, rebuilding supply chains and the industries of the future."
As well as discussing the financial sector, the leader of the Labour Party also affirmed his commitment to high-speed broadband to ensure people are connected to each other, as well as the economy.