Far-right BNP escapes bankruptcy after £150k donation from 91y/o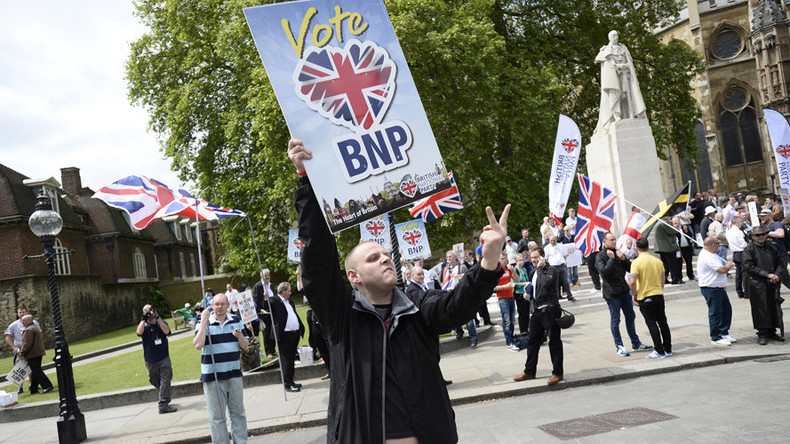 Far right group the British National Party (BNP) has been saved from bankruptcy after a 91-year-old man left £150,000 to the group in his will.
The donation, from Dennis Radmore of Plymouth, is one of the 10 largest political gifts in the last quarter of 2015, according to the Electoral Commission.
Radmore, who died in hospital in January last year, saved the BNP from financial collapse with his bequest.
Britain's other major right-wing party, the United Kingdom Independence Party (UKIP), saw a decline in financial support, receiving just £196,000 (US$270,000) in donations in the last quarter of 2015, compared with £2.2 million in the second quarter of the same year.
The BNP is not out of financial trouble yet, however. Only last month it temporarily lost its status as a political party when it failed to pay the £25 registration fee to the Electoral Commission.
"The last date a notification can be submitted to the Commission is six months after the deadline for submission of a party's statement of accounts," the Electoral Commission said at the time.
"The BNP's statement of accounts were due on 7 July, 2015. Their annual confirmation of registered details was therefore due on or before 7 January, 2016.
"The Electoral Commission did not receive the notification by this date and is required by law to remove the BNP from its register of political parties in Great Britain."
BNP spokesman Stephen Squire said a "clerical error" was behind the late submission.
"It's a little bit embarrassing," he said, insisting it would be "business as usual" for the party, which intended to contest the London mayoral election and some council seats.
"We've been overwhelmed by the number of phone calls we've had from people concerned we might be disappearing," he added.
The BNP was once one of the largest right-wing groups in the UK, with two MEPs, 50 councilors and a member of the London Assembly.
Former BNP leader Nick Griffin lost his seat as an MEP in 2014, after which he was expelled from the party and replaced as chairman by Adam Walker, hastening a spiral of decline for the group.
The rise of UKIP is also believed to have contributed to its decline, as many BNP members reportedly defected to Nigel Farage's party.
According to anti-fascist organization Hope Not Hate, 2015 saw further splintering within the BNP's ranks and significant electoral failures. Leading figure Jack Sen left the group to form British Renaissance, taking with him supporters from the party's North West and London branches.
"The key political event of 2015 was May's general election, but whereas the BNP contested it properly in 2010, saving its deposit in 73 constituencies, this time its results hardly registered," Hope not Hate wrote in its 2015 State of Hate report.
"The party stood a mere 8 candidates, compared with 338 in 2010, averaging just 0.44% of the vote. Nowhere did the party score even 1% of the vote in what turned out to be its worst result since 1987."