Muslim comic says jihadists' 'machismo', not religion is what lures teen brides
Published time: 22 Feb, 2016 13:19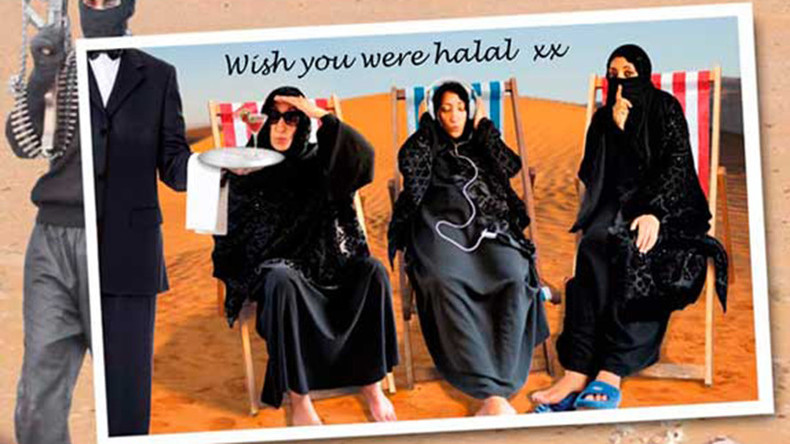 Shazia Mirza, a British comic of Palestinian origin, argues that it is Islamic State fighters' sex appeal, not ideological teachings, that lure scores of teenage girls to join the militant group, as they "know nothing" about Islam at their age.
"Yes, they may be barbaric... murderous psychopaths… But they are hairy, macho, they have guns and they're exciting... and that presses a lot of girls' buttons," Mirza, the author of a stand-up comedy show, "The Kardashians made me do it", told AFP in an interview on Monday ahead of her stunt in Paris.
Mirza was born in England to conservative Pakistani parents. She was forced to abide by the strict rules of Islam and Pakistani culture, which prevented her from enjoying her youth to the full.
"If some hot, hairy Muslim Brad Pitt had written to me at 15 and sent me pictures asking me to join him, it might have seemed like an exciting way out. But it would have been nothing to do with religion," she said, hinting that the same motivation lies behind young Muslim girls' aspiration to swap their cozy homes for the perilous life of a terrorist spouse.
She argues that teenage girls fall in love with Islamic State (IS, formerly ISIS/ISIL) "jihotties" – a term coined to describe attractive jihadist recruiting agents – because they appeal to "repressed, rebellious horny teenage Muslim girls" with their masculinity.
To Mirza this phenomenon is not a mystery to be solved – it is simply that good girls still love bad boys. The girls envisage their life with "The One Direction of Islam", as an adventure with "no-guilt, halal sex of which Allah approves."
With these remarks she will no doubt stir controversy in Paris. She is set to perform next week several streets from the bar that was hit in the Paris terror attacks, which overall claimed the lives of 130 people.
Mirza said this stand-up show was her first political one. It was inspired by the story of three London schoolgirls who ran away from home to become jihadist brides in Syria in 2014. The case of Shamima Begum, Kadiza Sultana, and Amira Abase, (15, 16 and 15 respectively at the time), made global headlines and triggered concerns about young Moslem girls' susceptibility to IS propaganda.
Mirza, who worked as a science teacher before going into comedy, said she taught "hundreds of Bangladeshi girls just like them" and took the girls' tragedy very personally.
After she found out that one of the girls was a fan of the popular TV show "Keep up with the Kardashians", which depicts the glamorous lifestyle of the young Kardashian sisters, she decided to name her own show "The Kardashians Made Me Do It".
Mirza rose to fame in the US and UK following 9/11, after which she began opening her shows with the line: "My name is Shazia Mirza. At least, that's what it says on my pilot's license."
Despite the ongoing state of emergency in France, which has recently been extended for another three months, she is not worried about the outcome of her gig.
READ MORE: ​UK runaway teen marries Aussie Ginger Jihadi, who warns ISIS is 'itching to attack' Britain - report

"It is important we talk honestly," she said, adding, "It is like with the Jews, or the Irish when they were seen as terrorists. When things get tough, you have to get funny."
Last year, British police reported that 43 women and girls had been missing. The suspicion was that they had traveled to Syria to join Islamist militants.