Gas masks & little else: Models in London strip in anti-fur protest (VIDEO)
Published time: 21 Feb, 2016 12:02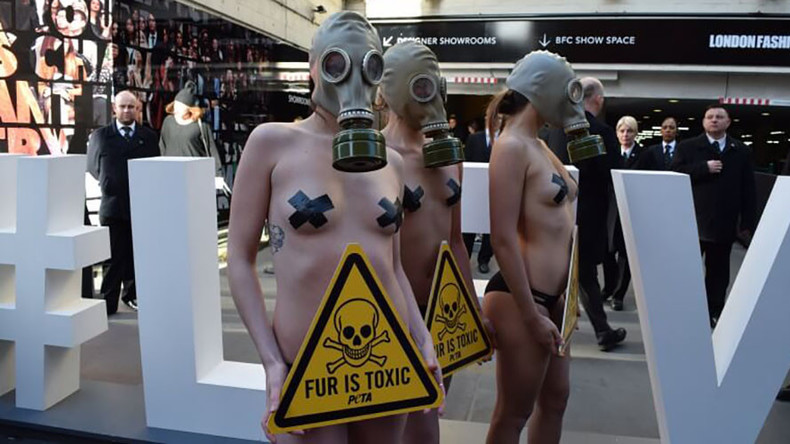 Three models wearing gasmasks, nipple tape and a bit of underwear have spiced up the opening of London Fashion Week. The bizarre environmentalist trio was there to warn people against poisoning themselves with fur.
The stunt was staged by People for the Ethical Treatment of Animal organization (PETA). The almost naked models carried signs, saying, "Fur is toxic" in front of one of London Fashion Week venues on Brewer Street on Friday.
"It may not be 2016's hottest new look, but this trio of models wearing gas masks (and little else) certainly turned heads this morning at the opening of London Fashion Week," PETA later said.

The group says gas masks symbolize the toxic chemicals used in the production of fur clothing.
"There is nothing fashionable about ripping the skin off the back of an animal just to make a coat and as we've demonstrated today fur is actually toxic, it is harmful to human health," Kirsty Henderson, campaign coordinator of PETA UK told Ruptly.
She quoted a recent study showing that wearing fur "can be bad for your health, because of the potentially carcinogenic chemicals often used to prevent it from rotting."
READ MORE: PETA up bounty to nab 'twisted' Cat Ripper of Croydon
"They [the chemicals] can cause possible cancer, they're carcinogenics, things like formaldehyde for example," she said.
Animal rights campaigners want fur to be completely banned from the textile industry.
"Animals in fur farms can't wait, they need us to act now, and that's why we need to do something that will get the attention of people, and, as you just saw, that certainly did what we came to do," Henderson added.
READ MORE: Naked PETA members protest SeaWorld outside Macy's (VIDEO)
PETA, a non-profit corporation, is one of the largest animal rights group in the world. Its slogan is: "Animals are not ours to use – for food, clothing, experimentation, entertainment or any other reason." The group says it tries to educate policymakers and the public "about cruelty to animals and promote an understanding of the right of all animals to be treated with respect."