500 guns & a bazooka: Council chairman horded UK's biggest ever illegal weapons cache
Published time: 19 Feb, 2016 17:02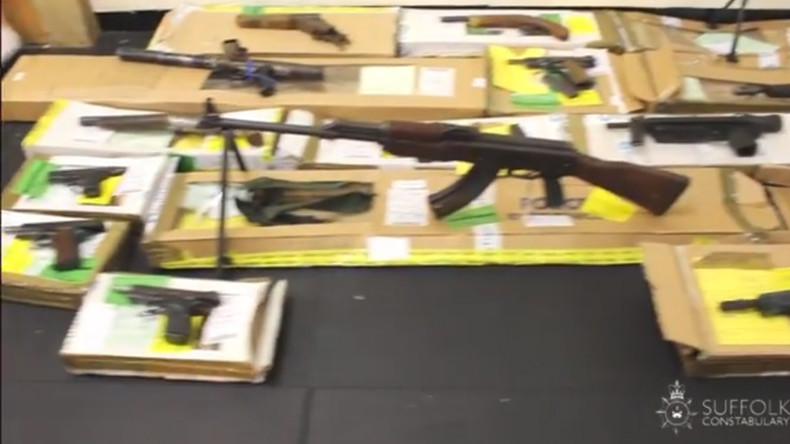 Police discovered 500 guns and 200,000 rounds of ammunition in the Suffolk home of a parish council chairman.
James Arnold, of Wyverstone, is said to have collected firearms "like stamps."
The discovery of his personal armory is the biggest arsenal of illegal weapons ever discovered in the UK.
Arnold died of pancreatic cancer three months after the police discovered his stash in April 2014, meaning he never faced prosecution.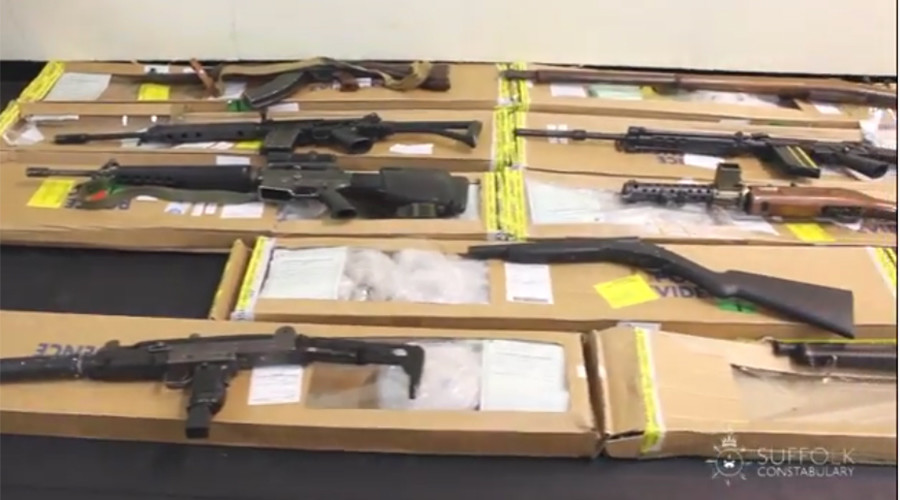 Suffolk police paraded the enormous trove of weapons including a bazooka for journalists, after firearms dealer Anthony Buckland, 65, was sent to jail at Norwich Crown Court for supplying Arnold with some of the weapons.
Chief Superintendent David Skevington said police never found a criminal motive for Arnold's gun horde.
"James Arnold never offered any explanation for what he did; he simply said he had come by the weapons years ago and kept them safe to stop them causing any harm," he said.
"We have asked every question and followed every line of inquiry and have found no evidence of a criminal or terrorist motive.
"The best explanation to date is that he was a collector and a hoarder who collected these weapons in the way some people collect stamps," he added.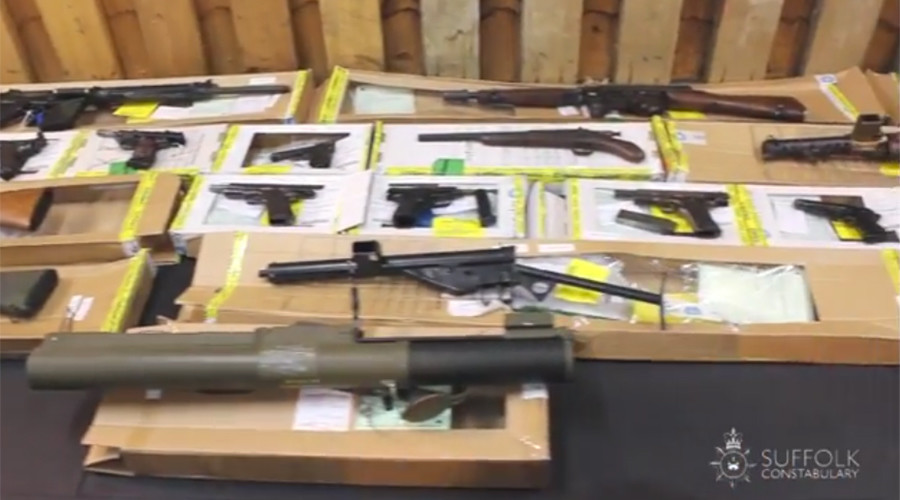 Police said had the weapons fallen into the wrong hands, they would have been enough to arm nine coach-loads of terrorists.
Officers discovered Arnold's arsenal when they were called out to investigate a domestic violence incident at his terraced house on April 13, 2014.
Police arrived intending to revoke his license for 17 legally owned firearms, but discovered other illegal weapons on the living room floor.
On further investigation, police discovered a hidden room accessible via a narrow tunnel behind a false wall in the pantry.
Arnold had held a firearms certificate since 1984, was known to shoot deer and vermin and was a member of several shooting clubs. As a condition of his license, he was subject to regular pre-announced police checks, but law enforcers had never had any cause for suspicion.
A local resident said he was a private man who collected "almost anything."
"He was involved in lots of things and lots of people knew who he was. But at the same time, you never felt like you really knew him – he never revealed very much about himself.
"He seemed like a nice enough man but he was a collector of almost everything, he also had odd bits around his property."
National Ballistics Intelligence Service experts examined many of the weapons and could not find any link to known crimes.
Detective Superintendent Steve Mattin said the private armory was unprecedented in the UK
"The scale of what was discovered in Wyverstone was quite extraordinary and ultimately turned out to be the largest cache of weapons held by an individual ever found in the United Kingdom.
"Although we will never know the full reasons how and why James Arnold built up this huge arsenal of weapons, we were at least able to identify Anthony Buckland as someone dealing in illegal firearms as part of this investigation."