Stephen Fry dumps Twitter over BAFTA 'bag lady' bust-up
Published time: 15 Feb, 2016 16:48
Edited time: 16 Feb, 2016 21:48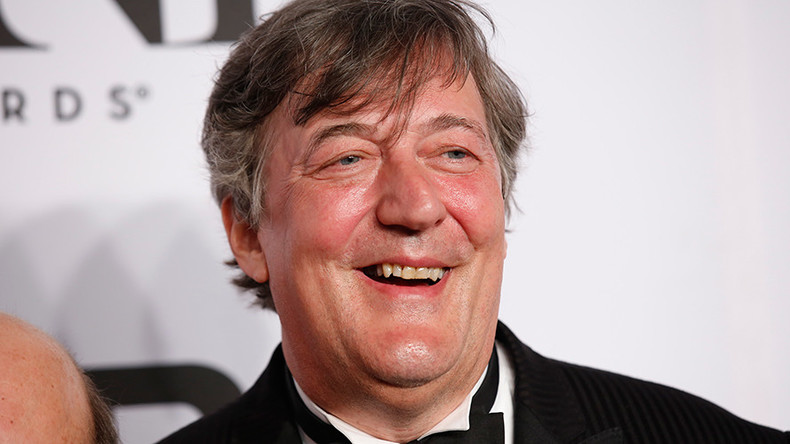 Actor, comedian, and prolific tweeter @StephenFry has once again deleted his account after making a "horrid" joke from the British Academy Film Awards (BAFTA), followed up by a flurry of expletives,
While presenting the Sunday awards show, Fry compared costume designer Jenny Beavan to a "bag lady" after she accepted the Best Costume Design award for her work on the film "Mad Max: Fury Road".
"Only one of the great cinematic costume designers would come to an awards ceremony dressed as a bag lady," Fry said, poking fun at Beavan's choice of attire - a black leather jacket, white t-shirt and black jeans.
The remark did not go down well with all viewers, however, with social media users branding Fry, who has presented the awards show since 2001, as "misogynistic" and "hideously rude".
Receiving such a backlash online, Fry, who was seen as one of the top celebrities on the social network, responded to his critics with an expletive-laden tweet noting that Beavan was a friend of his and didn't take offense.
"Will all you sanctimonious f**kers f*ck the f*ck off Jenny Beavan is a friend and joshing is legitimate. Christ I want to leave the planet," Fry wrote on the social network.
He then tweeted a picture of Beavan and himself with the caption: "Jenny Baglady Beavan and Stephen Outrageous Misogynist Swine Fry at the #EEBAFTAs after party".
Plenty of people defended Fry's joke though, including actor Matt Lucas and comedian David Baddiel.
Fry has deleted his account on the social network on a number of occasions, the last time being from February to May 2015 - and this hasn't gone unnoticed.