'Civilian norms not for war': UK Army officers being sold insurance to cover battlefield claims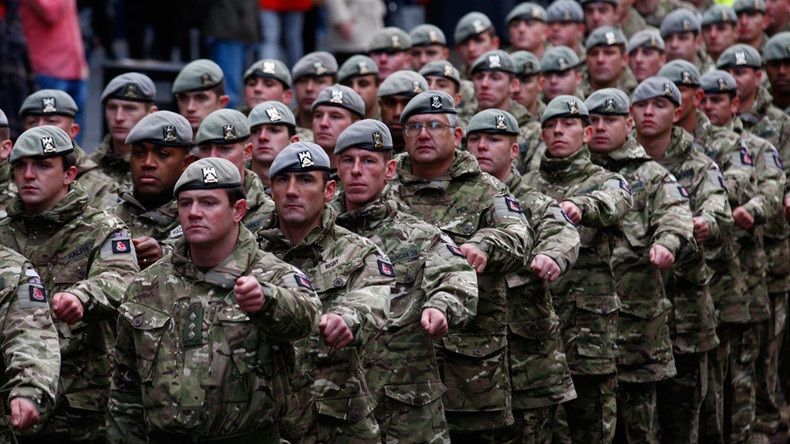 Insurance policies are being sold to British Army commanders to protect them from potential legal action from battlefield claims, it has been revealed. Hundreds of British soldiers have faced investigation over cases of alleged murder and abuse in recent wars.
The UK's Ministry of Defense (MoD) is currently facing hundreds of claims of alleged abuse from operations during campaigns in Iraq and Afghanistan. Speaking to the Daily Telegraph, Lord Boyce, a former Chief of the Defense Staff, said there is a growing concern within the British armed forces about "crown immunity – or the lack of it – in warfare situations." Claims of abuse can stem from, among other things, the misuse of military equipment on the battlefield.
According to Lord Boyce, this has now led insurance companies to offering military personnel cover "against the possibility of being involved in litigation at some stage."
The Daily Telegraph cited one scheme advertised by an insurance company, which it says is aimed at any commanding officer "who is or may be sued in the UK Courts for negligent acts and or omissions made in the course of his or her military duties."
Meanwhile, Lord West, a senior Royal Navy officer during the 1982 Falklands War, told the publication that "it was clearly a total nonsense that one can use human rights legislation to drag military leaders through the courts for decisions made in war," adding that the right to life on the battlefield is "not certain."
"In combat, men kill and are killed on a regular basis fighting for their countries, civilian norms cannot possibly apply, and yet there is a growing tendency, particularly in the European courts, to make judgments as if events on the battlefield were taking place in the halcyon days of peace," Lord West said.
A source for the MoD stated that compensation cases were almost always brought against the defense ministry, rather than against individual personnel. While insurance policies could cover the cost of the claims going through the courts, in most cases the MoD would provide lawyers, the source added.
This month, it emerged that the British armed forces were facing a criminal investigation concerning over 166 cases of alleged unlawful killings and maltreatment during the UK's involvement in Afghanistan, following a series of legal challenges waged by two leading human rights law firms.
The MoD launched a specialist investigation, Operation Northmoor, to examine the claims. Some 64 Royal Military Police officers were also drafted in to investigate the allegations, which involve 52 deaths in 15 separate incidents of unlawful killing.
However, Conservative MP Johnny Mercer, who formerly served as a British Army officer in Helmand province, said he "found it hard to understand" the point of dragging the claims through the courts as he added that no one will be prosecuted.
"It's going to go on for ages, it's going to cost loads of money and no one will go to prison," he told the Daily Telegraph.
The MoD said it is legally required to investigate credible allegations of criminal conduct by British forces. However, it stressed that not all allegations spark police probes and that prosecutions do not occur as a result of allegations alone.
In December, the MoD won an appeal to overturn a ruling by the High Court, which allowed Iraqi civilians to sue the ministry over allegations of illegal detention and mistreatment by British troops in Iraq.
"The Department welcomes the decision of the Court of Appeal as it serves to safeguard taxpayer interests in the face of hundreds of compensation claims which have appeared many years after the alleged incidents to which they refer," an MoD spokesman said.
You can share this story on social media: