Bitter pill: Health Secretary Hunt defies striking junior doctors, will impose hated contracts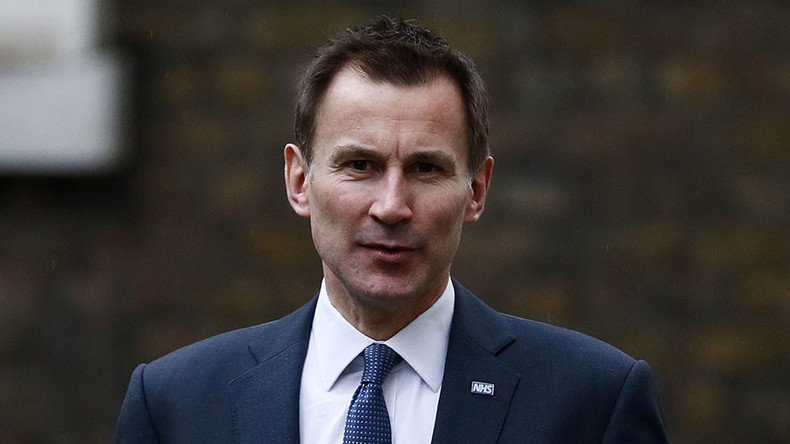 Health Secretary Jeremy Hunt says his widely-unpopular contracts will be imposed on junior doctors from August 1, despite a second day of national strike action against the changes to medics' pay and conditions.
Hunt told the House of Commons on Thursday that last minute negotiations with the British Medical Association (BMA) had collapsed.
His announcement could trigger more industrial action among furious junior doctors, who believe the new contracts will leave them vulnerable to working longer hours for lower pay.
Hunt told MPs the negotiations and contract had created "considerable dismay" among junior doctors, but he believes that over time the contracts will be viewed as a positive change, highlighting the importance of a seven-day National Health Service (NHS)
He said the contracts are designed to improve hospital care at weekends, claiming standards are "too low" at the weekend, with more patients dying on Saturdays and Sundays than during the week.
Hunt admitted the introduction of new weekend working payment represents a reduction in current rates, but stressed that those working one in four or more Saturdays would receive a pay premium of 3 percent. He also said the basic pay of junior doctors would rise by 13.5 percent.
Earlier in the week, Hunt's chief negotiator said talks had reached "the end of road."
The BMA responded to the announcement, calling it a "total failure" of the government to listen to doctors and the NHS.
"The decision to impose a contract is a sign of total failure on the Government's part. Instead of working with the BMA to reach an agreement that is in the best interests of patients, junior doctors and the NHS as a whole the Government has walked away, rejecting a fair and affordable offer put forward by the BMA. Instead it wants to impose a flawed contract on a generation of junior doctors who have lost all trust in the Health Secretary," BMA Junior Doctor Committee Chair Dr. Johann Malawana said in a statement.
"It is notable that the rest of the UK has chosen a different, constructive path on junior doctors' contracts with only the Health Secretary in England choosing imposition over agreement.
"The Government's shambolic handling of this process from start to finish has totally alienated a generation of junior doctors – the hospital doctors and GPs of the future, and there is a real risk that some will vote with their feet.
"Our message to the Government is clear: junior doctors cannot and will not accept a contract that is bad for the future of patient care, the profession and the NHS as a whole, and we will consider all options open to us."
Labour leader Jeremy Corbyn responded to the decision, saying the move was "provocative and damaging."
You can share this story on social media: