2nd opinion! Junior doctors strike again against hated Tory contracts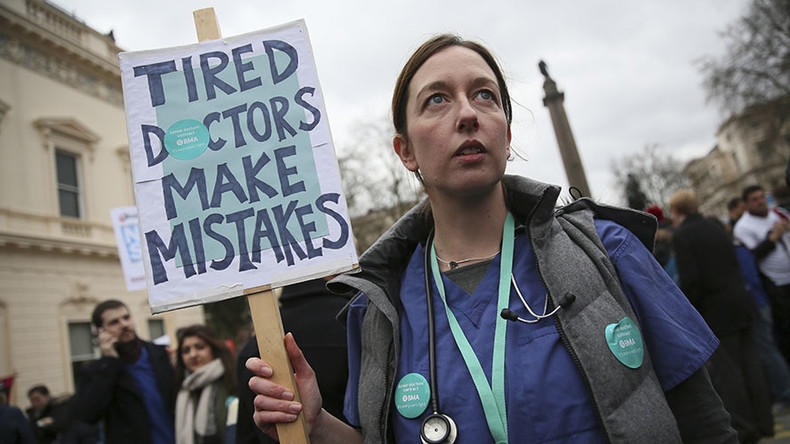 Junior doctors across the UK have walked out for a second time after last-minute talks between the British Medical Association (BMA) and Health Secretary Jeremy Hunt about pay and working hours collapsed.
During the strike, which began at 08:00 GMT on Wednesday, junior doctors are only providing emergency care. Some 3,000 procedures have been canceled, with National Health Service (NHS) authorities saying they are trying to minimize the impact of the walkout.
The row between junior doctors, a rank which applies to any doctor under consultant level, has been ongoing for months. Wednesday's 24-hour walkout is the second in as many months.
The government plans to change the times at which doctors are paid for working overtime. Currently 7pm to 7am Monday to Friday and both weekend days attract a premium overtime rate, but the new contract would change overtime hours to between 10pm and 7am and remove weekend benefits.
Junior doctors argue this would leave them out of pocket and make working hours unsafe.
Naomi Wright, 32, told RT the contract proposals would leave her unable to support her small child.
"We're getting a massive pay cut. I would have to move further out of London, or out of London altogether, if this contract were to go through.
"I have a two-year-old daughter and a family to support and I wouldn't be able to afford to live in the house that I live in now. I don't live extravagantly - I have a two-bedroom house. I can't afford a car," she said.
On Tuesday, Health Secretary Jeremy Hunt refused to confirm or deny whether he had vetoed a deal which would have seen the strike cancelled.
Dr. Johann Malawana, the BMA junior doctor's committee chairman, tweeted on Monday that a potential deal had been rejected.
"We presented fully costed & working solution that was rejected due to pride & politics," he said.
According to the Independent, an online poll of 1,045 medics found that 922 would "be prepared to consider resignation" if the contracts were passed.
Some 66 percent of Brits also support the strike, according to a poll from Ipsos Mori, with 64 percent believing that the government is more at fault for the dispute than doctors.
Thomas Sanctuary, 36, told RT the strikes are vital to secure the future of the NHS.
"This is about a fight for future generations working within the NHS, a fight for the NHS as a national health service free at the point of demand."
"We're all here to protect the NHS as a service. We're very concerned about the NHS being put at risk. If striking is the only remaining option that we have, then that's what we have to do."
Dr. Anne Rainsberry, national incident director for NHS England, said there would still be emergency care during the strikes the organization would try to minimize the impact of the strike.
"We will monitor the situation across the country to ensure plans are in place, and people are ready to respond to any significant increases in pressure in any region over the period of this strike."
You can share this story on social media: