Not-so-itsy-bitsy spider found in shower becomes web sensation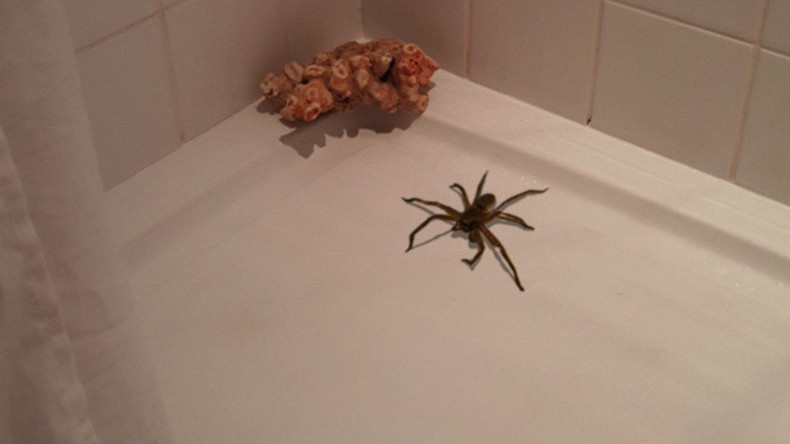 UK arachnophobe Lewis Brown discovered a nasty eight-legged surprise lurking in his shower Thursday night - and his photos of the incident spun into a social media sensation.
The not-so-itsy-bitsy spider climbed up a water spout... and into Brown's shower drain.
Initially, he assumed it had to be fake because it was so big - and waited for his partner to get home so he could tell her the prank didn't work.
READ MORE: Arachnophobes beware: Scientists discover 'behemoth' spider
Brown soon realized it wasn't joke and the two had to figure out what to do with their unwanted guest.
Instead of heeding to the wisdom of the nursery rhyme by turning on "the rain" and washing the spider out, they posted a photo of their spider on the web to crowdsource some advice.
"I'm not going near that. It can't be a spider, no way it's that big. What if it comes at me?" he asked in a pathetic display of cowardice.
"There is no glass big enough to cover that. Just move out. It's won," one Facebook user said.
"Skip the shower tonight. Go round a friends!!!!!!" another advised.
"After a lot of screaming on Facebook and no usable information, I decided to leave it alone until it had moved," Brown later told the Reading & Berkshire News.
After it moved, but not far enough to leave the shower, Brown said: "It was staring right at me."
Eventually he literally 'threw in the towel' by using one to cover the spider "along with (his) entire body" and take it outside to the bin.
Whether the shower spider survived its eviction is unknown, but perhaps it went back to spinning webs in front of CCTV cameras.
You can share this story on social media: