Sober sex only: Condom machine decides whether you're too drunk for lovin'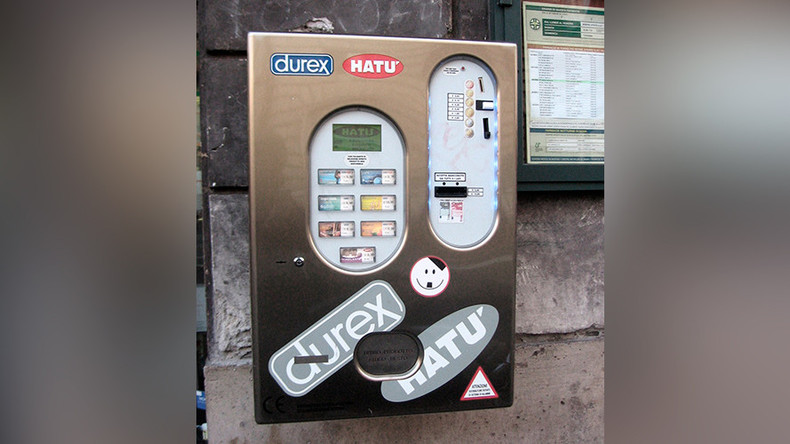 A condom machine in London which dispenses contraceptives to sober people only has been criticized for potentially leading to riskier bedroom behavior.
The 'Johnny Be Good' dispenser comes with a breathalyzer to determine how under the influence of alcohol you are, with levels ranging from 'teetotaler' to 'legless', and 'game over'. Users blow into the device and - if they're under the legal limit - will be rewarded with a free condom.
The Brass Monkey pub in Victoria is trialling the machine, created by dating site Match.
A survey by the dating site found 73 percent of single Britons find alcohol makes dating easier, with one-third saying they aren't confident enough to sleep with someone for the first time while totally sober.
The survey also revealed men are more likely to seek some Dutch courage before getting down, with almost half admitting they drink beforehand compared to 36 percent of women.
The condom dispenser has drawn criticism from health experts who believe people the dispenser deems too drunk for sex may do so anyway, unprotected.
"Denying people access to condoms could lead to riskier sexual behaviour, increasing the risk of unintended pregnancies and sexually transmitted infections," Professor Jane Anderson told the Metro.
The machine also fails to tackle the crucial issue of alcohol and consent, which is being increasingly highlighted on college campuses.
In Ireland, first year students at Dublin's Trinity College will have to attend compulsory sexual consent workshops in September, after a college survey found one-quarter of its female students reported having non-consensual sex.
The university is following in the footsteps of colleges in Oxford, Cambridge and Bristol in the UK, which have also introduced similar initiatives. A 2012 report by the Ministry of Justice revealed female students are at a higher risk of sexual violence than the rest of the population.
READ MORE: 'Secret' Cambridge University drinking society that 'glorifies rape' under investigation
Student unions in the US handed out sexual consent kits last year, containing a sex contract, a pen, a condom, and a mint. The kits were an effort to start a conversation about consent.
Meanwhile, New York has introduced a new law on campuses, "Yes Means Yes", requiring couples to obtain consent at each stage of hooking up. New York colleges must update their rules and conduct codes to reflect the new law.
California also has an 'affirmative consent' law to improve how universities deal with sexual assault cases.
You can share this story on social media: