LGBT activists dump jewelry outside Danish embassy to protest seizing of refugees' valuables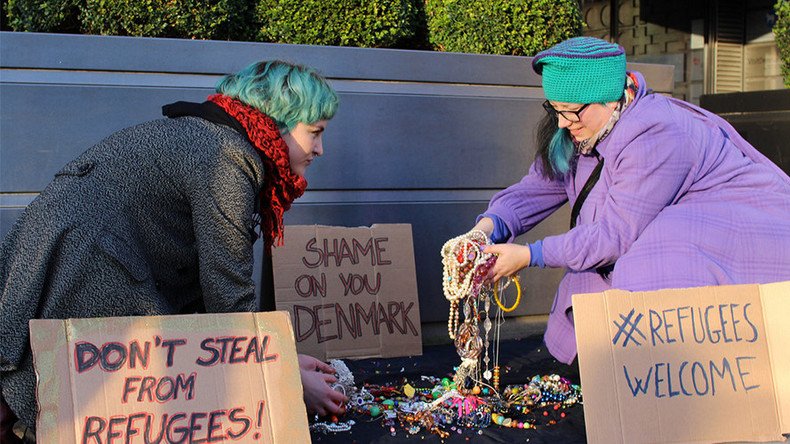 Activists from Lesbians and Gays Support the Migrants (LGSM) threw jewelry on the ground in front of the Danish embassy on Thursday morning to protest controversial new laws which allow police to seize refugees' cash and valuables.
The Danish law, passed Tuesday, follows similar moves in Switzerland and southern Germany. It allows authorities to seize non-essential items worth more than 10,000 kroner (£1,000) that have no sentimental value.
It was passed amid calls for countries' borders in the Balkans to be sealed, which could cause thousands of refugees and migrants to become trapped in Greece.
The Danish government said the measure is intended to ensure that the cost of processing each asylum seeker is covered.
The introduction of the law has sparked criticism from human rights campaigners and the UN's refugee agency, the UNHCR. On Wednesday, Chinese dissident and artist Ai Weiwei pulled out of an exhibition in Denmark to protest the measures.
Danish citizen Morten Thaysen from Lesbians and Gays Support the Migrants explained the symbolism behind their protest.
"If Denmark needs it so badly, they can have our jewelry as long as they stop stealing from refugees. Denmark is one of the richest countries in the world and there can be no doubt that this new law is not about economy, but about scapegoating migrants."
Both the Czech and Slovakian prime ministers have criticized Greece's inability to stop thousands of migrants and refugees from travelling to northern Europe. They called for stiffer border controls to stem the flow of refugees.
LGSM activists also criticized the treatment of refugees currently seeking asylum in the UK.
Donna Riddington said: "Just this week it was revealed that asylum seekers in the UK were forced to wear red wristbands, and now the Danish government wants to rip jewelry off refugees. We're already horrified by the treatment of migrants across Europe, but Denmark is stooping to a new low. Yesterday was Holocaust Memorial Day, have we learned nothing?"
Lesbians and Gays Support the Migrants describe themselves as "a queer activist group that takes up the mantle from the 1980s Lesbians and Gays Support the Miners to stand in solidarity with migrants and refugees."
"The group supports migrants and refugees through fundraising activities and use creative action to disrupt the prevailing right-wing media narrative which pits LGBTQIA+ people against migrants."
You can share this story on social media: