UKIP leader Farage launches cross-party Brexit platform (VIDEO)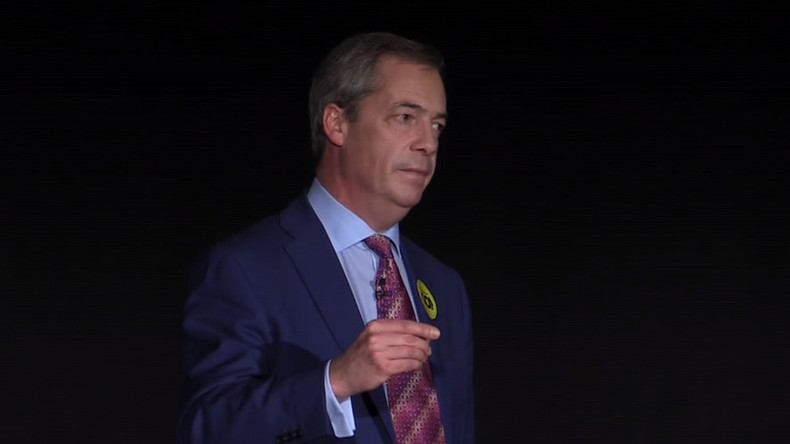 A 'Grassroots Out' platform which is campaigning for the UK to leave the EU has been launched by UKIP leader Nigel Farage, Labour MP Kate Hoey and Conservative ex-minister Liam Fox.
"We are not against Europe, we love Europe," Farage said addressing 2,000 people who gathered in Kettering, Northamptonshire, for the event.
"What we are against is the idea of all of our laws being administered by those in Brussels," he added as cited by The Northamptonshire Telegraph.
The main argument in favor a British exit from the EU is the EU migration policy of open doors, the UKIP leader noted.
"The key issue that I believe will win us this referendum is the fact that as a member of this union we now have an open door to nearly half a billion people, any of whom can come in to our country," Farage said urging for UK residents "to take back control of our borders" in the face of the migrant influx.
He said that the "shocking" incident in Cologne, Germany, where about 1,000 migrants robbed and sexually harassed women, is the result of "a massive error" made by the EU and "compounded hideously by Angela Merkel".
"We want our country back!" Farage shouted as a motto to the audience.
The 'Grassroots Out' platform will campaign for a British exit from the EU in the run-up to the Brexit referendum which is to be held before the end of the next year. The referendum was initiated by British PM David Cameron who has tried to use it as a bargaining tool in talks with the EU. Cameron demands EU reform, which will provide member states with more sovereignty and ensure benefits for non-Eurozone member states.
Along with the UKIP leader, former British Defense Secretary Liam Fox from the Conservative Party, also addressed the audience. Fox said that uncontrolled migration and open borders pose a security challenge for the UK which should control its borders itself as a sovereign state.
"Insecurity for our country comes from open borders and uncontrolled migration and I do not want the mistakes made by Angela Merkel in opening the doors to migrants in Germany to be reflected in Britain's security," Fox said.
"If you cannot make your own laws, if you cannot control your own borders, you are not an independent sovereign nation and I want to live in an independent sovereign nation," he added.
Labour MP Kate Hoey also criticized the EU, emphasizing the declining economic power of the union.
"When we joined the EU, its nine members had 36 percent of the world's economy. It's now down to 17 percent, the EU is a shrinking market," Hoey said as cited by Northamptonshire Telegraph.
"We are going to get one chance to leave and that chance is now," she added.
You can share this story on social media: