Haute haggis: £4,000 for sheep stomach stuffed with gold & wagyu beef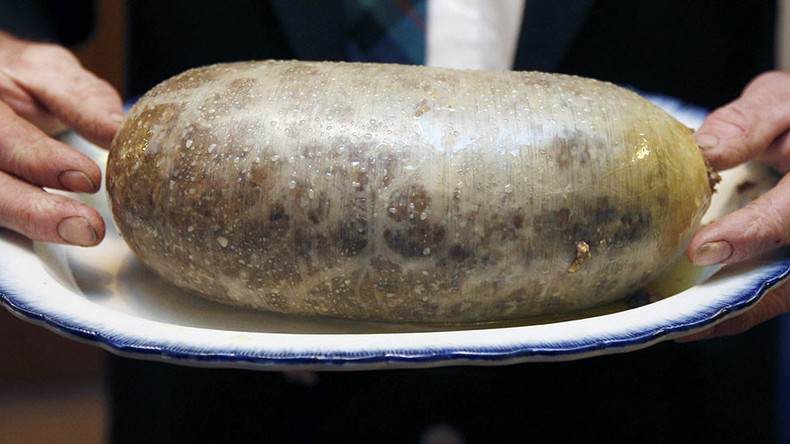 If the fictional philosopher Charlie McKenzie is correct, and most Scottish food is based on a dare, then the latest luxury edition of stuffed sheep stomach would be a costly challenge.
A new dish dubbed the "world's most expensive haggis" has been created especially for Burns Night this Monday, Scotland's celebration of the 18th century Romantic poet and lyricist Robert Burns.
It's not for everyone, but this special creation contains the finest ingredients: farm-reared wagyu beef from the Scottish Highlands; white summer truffle from France, known as 'diamonds of the kitchen'; Indian tellicherry pepper that only grows at 2000 ft above sea level; and a sprinkling of edible 24 carat gold.
The high-class haggis will set you back an eye-watering, if not mouth-watering, £4,000 (US$5,700).
READ MORE: America's donut excess - from the $1,000 golden circle to the stoners' delight
Should all of that tickle your fancy, the haggis is available on a made-to-order basis by Macsween's in Edinburgh and will be presented in a special wooden cask.
"This latest creation demonstrates the dedication and craft that go into every single one of our products. Good haggis-making is an art and we wanted to highlight this," the company's James Macsween told the Scotsman newspaper.
Scotland's most (in)famous dish is traditionally made with sheep's heart, liver, and lungs, and mixed with oats, onions, and spices, all of which is then encased in a sheep's stomach.
It's not for everyone, as Mike Myers' character in the film "So I Married An Axe Murderer" explained.
Burns Night has been inspiring Scots to get creative with their traditional dishes.
This guy might have taken it all a bit too far by creating a guinea pig haggis. Paul Wedgwood was inspired by his travels in Peru, where the rodent is considered a delicacy.
This isn't even Wedgwood's first foray into experimenting with haggis. He has used pigeons and squirrels in the past, though we're not sure how many of each you'd need to actually fill your plate.
If Haggis isn't your thing, there are plenty of other Scottish delicacies you can enjoy eating - and drinking - on Burns Night.
Scottish Whiskey
Shortbread

Deep-fried Mars bar
Irn Bru
You can share this story on social media: