America's donut excess -  from the $1000 golden circle to a stoners' dream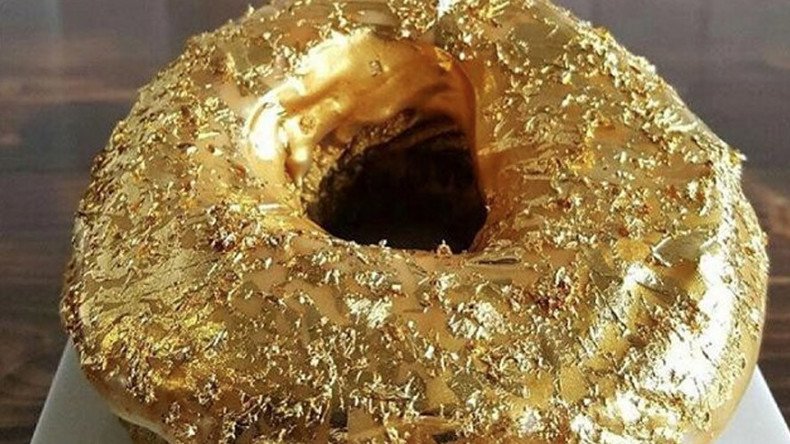 Donuts are all kinds of awesome, but how much would you shell out for one? Williamsburg's Manila Social Club has created a golden donut which takes luxury to the next level.
The donut is covered in 24 karat gold flake icing made with Cristal champagne. It is filled with ube mousse and champagne jelly.
Manilla Social Club is known for its ube donuts, made from purple yams, for $40 per dozen.
"The reason that gold leaf and Cristal were added was because I love all different champagnes," ower Bjorn DelaCruz told First We Feast.
DelaCruz wanted to make something to celebrate the New Year and wasn't expecting people to order so many. "But then again, it is New York, and there are people willing to put down a grand for a dozen donuts," he said.
If you choose to try a $100 donut, DelaCruz will hand deliver it anywhere in the tristate area. "I understand you're spending money on this. I want you to know it's not just my assistant making these. I take pride in this, and to me it's a piece of art."
This isn't the first $100 donut. Dolicious Donuts in British Columbia created a $100 donut of edible diamonds, 24 karat gold flakes, wine, and 'luxury water' brand Bling H20 to celebrate its re-opening in June.
Krispy Kreme created a $1000 donut in 2014, to celebrate National Donut Week.
Made from Dom Perignon, the donut was gilded in 24 karat gold leaf and dusted with 23 karat dust and edible diamonds. It also came with a free cocktail made with 500-year-old Courvoisier and 2002 Dom Perignon, so it was a bargain really.
As you stumble further down the internet's donut hole, a whole world of bizarre donuts can be found.
What about bacon adorned babies from Gourdoughs, Texas.
The Dead Elvis from Psycho Donuts, California. Inspired by the King, the donut is filled with custard and topped with bananas, peanut butter & jelly, and bacon.
The Devil's Death Dance from Dallas' Hypnotic Donuts features jalapeno, habanero, ghost pepper icing and some cayenne.
The donut shop holds a World's Spiciest Donut-Eating contest.
Dank Donuts create much loved weed donuts, allowing stoners to get high and satisfy their munchies in one delicious bite.
You can share this story on social media: