London schoolgirls who fled to Syria have lost contact with families – lawyer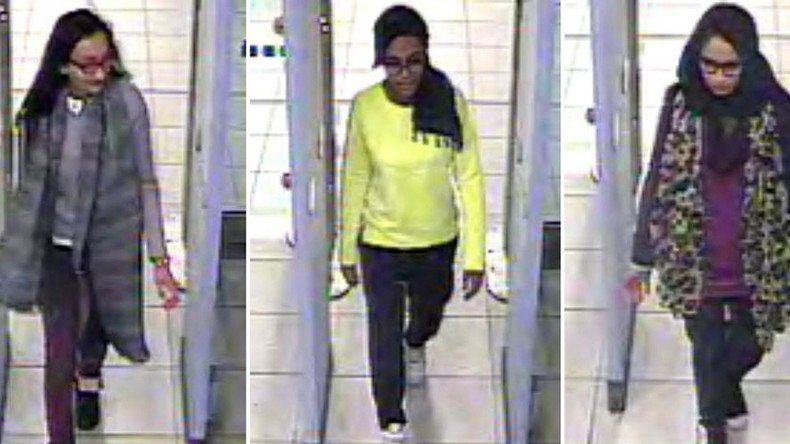 The parents of the three east London schoolgirls who fled to Syria to join Islamic State last year have lost contact with the runaways, a lawyer for the girls' families has said.
The teenagers, Shamima Begum, Kadiza Sultana and Amira Abase, entered Syria through Turkey after taking a flight from London's Gatwick Airport last February. The three girls had apparently become radicalized and took off to follow an unnamed 15-year-old friend who left the UK in December 2014.
READ MORE: 2 UK girls reportedly marry ISIS fighters in Syria, have 'no intention to come home soon'
All four teens are believed to have married western jihadi fighters, with two of the girls already widowed.
Tasminme Akunjee, a lawyer for two of the girls' families, said that relatives have not been able to get in touch with the teens since mid-December. The girls have been living in the Islamic State (IS, formerly ISIS/ISIL) stronghold of Raqqa, which has in recent weeks come under heavy fire from Russian and Western coalition airstrikes.
"Contact has been lost with them for some weeks now, so to be honest we have no idea what their status is at the moment," he told BBC Radio 4's Today program.
"The families are beyond words in terms of their levels of worry. They were children when they made the decision to go and we as a society should treat them as victims of grooming.
"When you have that warzone strategy in front of you, what can parents half-way across the world do to communicate with their children?"
Akunjee's comments came as Education Secretary Nicky Morgan visited Bethnal Green Academy, where the missing girls went to school, to announce the launch of a new anti-extremism initiative.
The government's 'Educate Against Hate' website seeks to provide "practical advice to protect children from the dangers of extremism," Morgan said.
The website also alerts parents and teachers if children are spending "excessive time online or on mobile phones."
"We are determined to keep children safe in and out of school. Today's announcement of resources and tougher powers to protect young, impressionable minds from radical views sends a clear message to extremists: our children are firmly out of your reach," she said.
Morgan added that she would also consider allowing local councils to start tracking young people who have gone missing from school in an effort to curb radicalization.
You can share this story on social media: