Cameron says Brexit not 'the right answer' for UK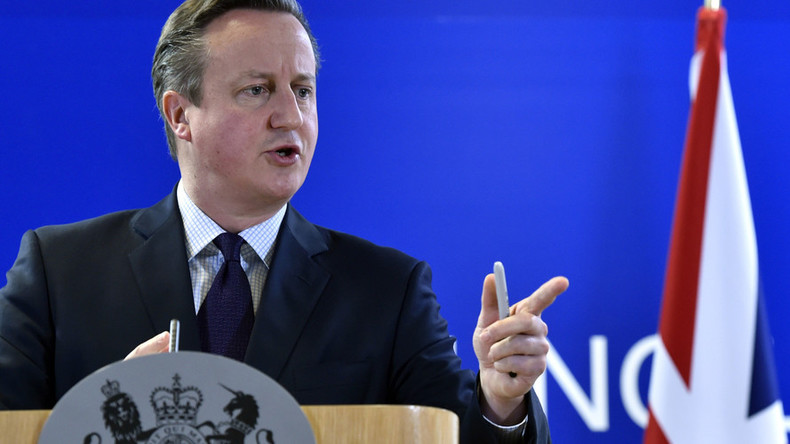 British Prime Minister David Cameron appears to have made up his mind on the burning issue of the UK leaving or staying in the EU. It most likely won't please Euroskeptics.
Commenting on the situation of the UK's membership in the EU, David Cameron made it clear he is hopeful of reaching a deal with European leaders regarding his reforms, which would probably eliminate the need for leaving the bloc.
"I don't think that [exit] is the right answer ... Were that to be the answer, we would have to do everything necessary to make that work," the Conservative Party leader said in an interview on BBC's Andrew Marr show on Sunday.
However, Cameron didn't rule out the possibility of a referendum and that could end with a majority of "out" votes.
"The British public will make their decision. We must obey that decision whatever it is," he said.
Cameron has recently held meetings with German Chancellor Angela Merkel and Hungarian Prime Minister Viktor Orban, to discuss how UK's membership terms could be reconsidered. The sore point is welfare payments to refugees.
If Cameron manages to come to agreement on reforms, then an in-out referendum may be held as early as February. However, the PM said he won't speed things up if his diplomatic efforts are unsuccessful.
"The substance matters much more than the timing, so if I can't get the right deal in February, I will wait and I will keep going and keep plugging away," he said.
As of now, 43 percent of voters are in favor of leaving the EU, 36 percent would choose to stay, while 21 percent are still undecided, an opinion poll published on Thursday, January 7, showed.
You can share this story on social media: