Practical joker drags sleeping friend's airbed into lake in cruel wakeup call (VIDEO)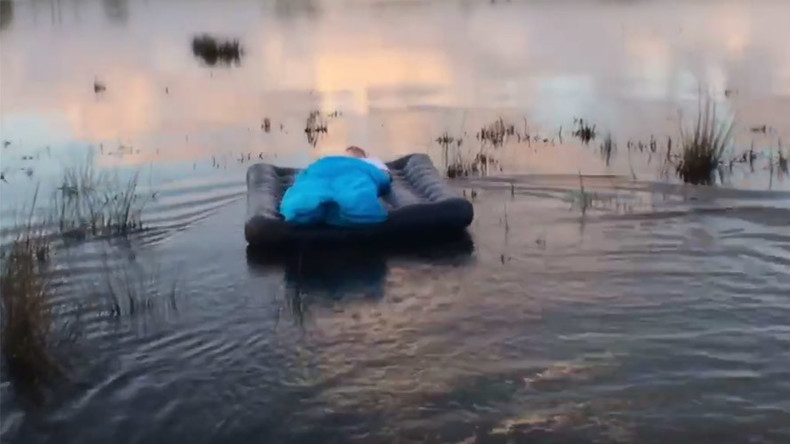 A not-so-happy camper was stunned to wake up floating in the middle of a lake on his airbed after his friend, an internet prankster, dragged him into the water as he slept.
Social media trickster Ben Phillips, 22, almost cried with laughter when he saw 18-year-old Elliot Giles shout and scream "get me out of here" when he finally awoke.
In a hilarious plot to frighten his pal, Phillips entered Giles's tent and gently pushed the inflatable mattress he was snoozing on into a nearby lake.
"Push him out, go, go, go," the prankster says, as he struggles to stifle his laughter.
Giles wakes abruptly, confused by his soggy surroundings.
"Elliot, what are you doing out there?" the prankster calls while laughing.
Attempting to stand up and propel his makeshift raft back to dry land, the 18-year-old soon loses his balance, plunging into the water.
"I've just almost died in that lake of hypothermia," the soaked camper gripes.
The video has gone viral on social media and attracted over 4 million views on Facebook.
Phillips is a professional internet comedian with more than 1.6 million views on Facebook and Vine.
This isn't the first time Giles has been the target of his pranks. In the past, the trickster dropped a water balloon weighing two kilos on his friend's private parts and smashed an egg into his face.
In an interview with the Daily Mail earlier this year, Phillips said Giles "always freaks out."
"He always freaks out and goes over the top. But he just gets on with it," he told the paper.
"He's one of my oldest mates, an old family friend. And I think he secretly enjoys the attention."