Terror arrests hit record high as number of women & teens seized doubles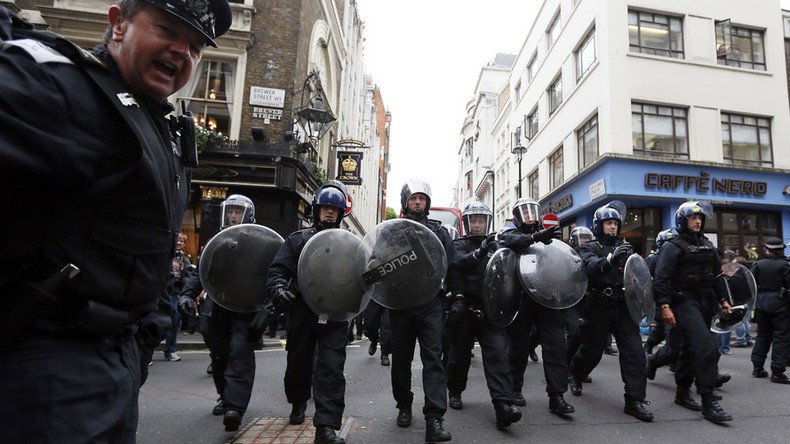 Terror suspects are being arrested at a record rate in the UK, where 315 have been taken into custody in the past year. A significant number of them are women and teenagers.
Arrests of female suspects doubled to 50 in the year up to September 2015 compared with the previous year, while the number of under-18s increased from eight to 15.
There was a 31-percent rise in the number of suspects arrested for international-related terror offences, as security services sought to counter the terror threat from Islamic State (IS, formerly ISIS/ISIL).
Scotland Yard has said it is making nearly one arrest per day as part of a sweeping counter-terror effort.
According to the Home Office, women now account for 16 percent of all arrests, twice the usual number.
"The majority of the increase in the number of women getting arrested has been linked to international-related terrorism," the department's quarterly bulletin said.
Nearly 40 percent (124) of all those arrested were charged, 22 percent released on bail (68), and 37 percent (115) released without charge.
Figures demonstrate a 41-percent increase in the number of suspects who considered themselves Asian and a 25-percent rise in those who consider themselves white.
Nearly 80 percent of those arrested were British or held British dual nationality, a significant increase in recent years.
"Since 11 September 2001 (when the data collection began), only 56 percent of those arrested were of British, or British dual nationality," the report said.
The figures represent the highest total terror arrests for a year to September on record.
Home Office terrorism adviser Jahan Mahmood told Sky News the government is misrepresenting the severity of the terror threat and in turn putting pressure on police forces to carry out arrests.
"There are simply too many arrests. I put that down to the legislation, but also because of this constant talk about the threat level being severe. That creates this atmosphere of fear.
"The implications of getting it wrong can only further radicalize some individuals and that's the worry," he added.
You can share this story on social media: