Sour grapes? Nigel Farage accuses Labour of by-election fraud after Corbyn-boosting victory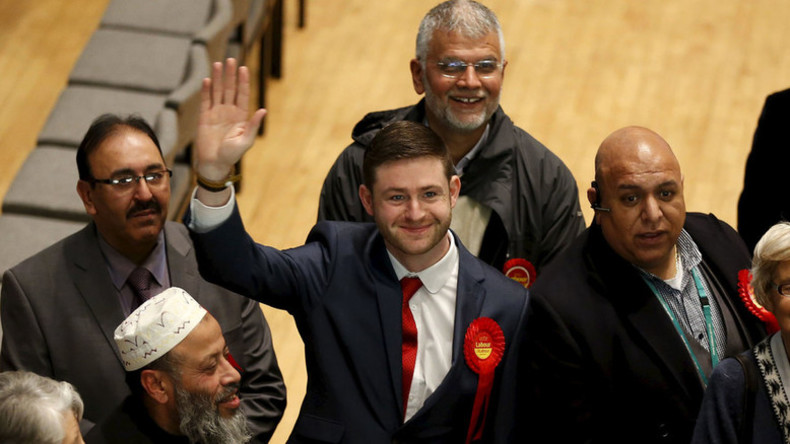 UKIP leader Nigel Farage has accused Labour of election fraud in the Oldham West and Royton by-election, describing the overwhelming result for Jeremy Corbyn's party as "seriously bent."
Labour's Jim McMahon stomped to victory in the by-election, which was called after the death of Corbyn-loyalist Michael Meacher, with an increased majority of 62.1 percent of the vote.
Shortly after the result was announced early Friday morning, UK Independence Party (UKIP) boss Farage claimed he had evidence of electoral fraud relating to postal votes. However, UKIP sources were quick to backtrack on the claims.
Labour's deputy leader Tom Watson dismissed Farage's allegations as a case of "sour grapes" following the party's defeat.
Farage described the Oldham West result as "perverse" in an early morning Twitter rant on Friday.
As a veteran of over thirty by-elections I have never seen such a perverse result. Serious questions need to be asked.

— Nigel Farage (@Nigel_Farage) December 4, 2015
Evidence from an impeccable source that today's postal voting was bent.

— Nigel Farage (@Nigel_Farage) December 4, 2015
Speaking to BBC Radio 4's Today program, Faragae said "some very odd things happened" at the by-election, citing a 15 percent increase in the number of postal votes as an example.
Farage said he had heard "stories of practices that shouldn't have been happening," including claims people turned up at polling stations with multiple postal votes.
The UKIP leader suggested "big ethnic changes in the way people are voting" could have "perverted" the result of the election.
"In some of these seats, where ... people don't speak English, but they're signed up to postal votes, effectively the electoral process is now dead," he told the BBC.
Despite party figures backtracking over claims of fraud, Farage said UKIP will officially protest the alleged abuses.
"We will file a formal complaint about the abuses that our people saw yesterday.
"Some of the things we've seen before in Birmingham and Tower Hamlets were happening in Oldham yesterday," he added.
Farage said UKIP supporters had seen some boxes filled with 99 percent Labour votes and this "does not seem to be consistent with modern liberal democracy."
Newly-elected McMahon increased Labour's majority in the traditional safe seat by 7.3 percent, garnering 10,000 more votes than the runner-up UKIP candidte.
Watson dismissed UKIP's claims of electoral fraud. Serious concerns, should they exist, should be passed to the police, he said.
The result was "very, very good" for Corbyn, said Watson, who urged dissident MPs to rally around the Labour leader.